Put Your Money Where Your Mouth Is
Before lunch begins, students sprint through the breezeway, the quad and into the cafeteria. By the time the bell rings, long, crowded lines snake all the way to the back of the room. Chicken nuggets, kale salads, pizza and chocolate toffee cookies fill the air with a mix of savory and sweet odors.
Head of PHS food service and director of school nutrition M'Lisa Kelley said that around 70 percent of the food students buy is organic and locally grown, but the high quality comes at a steep price. The average main dish at PHS food service costs about $6.50, two and a half times more than the average high school cafeteria meal, according to the School Nutrition Association.
Kelley said that when she first started working for Piedmont, the cooking of food was outsourced.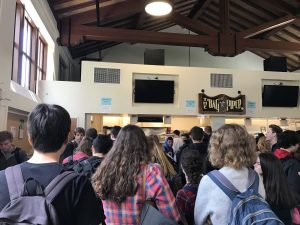 "It was just being brought in ready to serve," Kelley said. "I kind of revamped the whole system, so now we order ingredients and make things here."
Kelley said her desire to give students the best food possible prompted this change.
"Good food and good ingredients are expensive," Kelley said. "But I look around at all of you, you're all gorgeous, you're all healthy. I mean really, [across the country] you have this obesity problem and this diabetes problem, but here, everybody that I feed looks beautiful. I'd like to think that that has a little something to do with me. It makes me so happy."
Unfortunately, healthy food often costs more. The United States Department of Agriculture (USDA) estimated that its updated nutrition standards will raise the average high school lunch price by 10 cents.
"Food is really not that cheap, we're paying for it in our healthcare," Kelley said. "I would rather be just as honest about it and pay for [health care] up front in good, clean food."
Kelley said it is unrealistic to think most food is not expensive.
"I know from my own life that I spend lots of money on food, on good ingredients," Kelley said. "But I would rather spend my money on good food and know it goes to good use, making my family feel good and making the people around me feel good, than on doctor bills."
However, quality is not the only reason food costs more at PHS. According to assistant superintendent Song Chin-Bendib, who oversees the PUSD finances, PHS food service, unlike cafeterias at other schools, is not able to buy ingredients at reduced prices. Depending on a school's percentage of students who qualify for reduced meal prices, the federal and state governments give credits that effectively subsidize ingredient prices. Piedmont's relatively wealthy population, combined with the high food quality, results in high prices.
"That organic food is of course going to be more expensive than run of the mill processed foods," Chin-Bendib said.
According to PUSD's Second Interim Budget available online, PUSD's food service expects to earn $759,000 through food sales this school year. Most of this money will be spent on ingredients, food service employee salaries and benefits, and operating costs.
Additional budget documents received from Chin-Bendib show that the PHS food service expects to spend a maximum of $265,000 on ingredients by the end of the school year.
A majority of the high school's ingredients come from Sysco, but food service also buys certain foods like sushi and pizza from outside sources. The $265,000 includes purchase orders and allocated funds for Cybelle's Pizza and Banzai Sushi.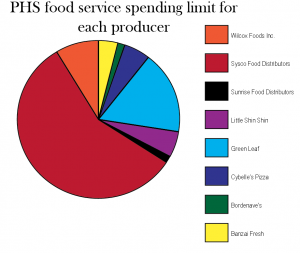 Food service employee salaries and benefits also come from the earned $759,000 and any remaining money is put back into food service.
It is against the law to spend food service profits on anything other than the food service, Kelley said.
"Food service retains [profits]," Chin-Bendib said. "The district cannot use it at its discretion."
By the end of this school year, PUSD's food services will have run a $56,674 surplus. This surplus will then be added to food services' reserves, which will total to $251,885. The surplus exists to pay for unexpected costs, such as machine break down, while the reserves act as backup salaries for employees.
"Technically the reserve can be used for emergency repairs but mostly it is meant for payroll," Chin-Bendib said.
PUSD food services' budget is expected to increase in the future as the student body grows, Chin-Bendib said. In addition, the district reserves the right to charge food service overhead costs, the cost of managing food service's finances. Combined, these would increase the operating cost, and possibly raise food prices.
Students seeking to save money on food can earn discounts by volunteering at food service.
According to PHS food service teacher's assistant (TA) junior Julia Cole, students who volunteer receive 50 percent off when they volunteer three or more times a week.
"You're always accommodated if you're a TA," Cole said. "I work there, so I get discounts, but for regular people, it's a little bit overpriced."
To become a volunteer, students must first talk to Kelley, Cole said.
Most of the learning is on the job. New volunteers typically start off as runners, who fetch food for the cashiers, and progress from there, Cole said.
"You get used to it really quick, like in a week," Cole said.
When it comes to food preparation, only students who were assigned a TA period can handle food, leaving those positions closed to most students, said former food service TA junior Aidan Grayson.
No one person does all the cooking, Grayson said.
"We worked as a team," Grayson said. "Every time we made something, we'd always make it together."
In addition to food discounts, students receive community service hours and can cut to the front of the food line.
"I just like working with food," Cole said. "That's kind of what I want to do when I grow up."