Youth Educator discussions take off
On March 3, the twenty-six juniors selected to be part of the Youth Educators program (YEDs) entered middle school classrooms for the first time.
The YEDs program takes current high school juniors and puts them in the mentoring role of teaching eighth graders about some of the realities of high school life.
"The program was really created to inform [eighth graders] of issues around peer pressure in regards to drugs and alcohol, to bridge the gap between middle school and high school," math teacher John Hayden said.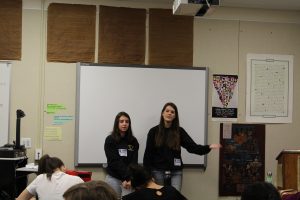 The YEDs program started in Contra Costa County during the 'Just Say No' era of drug education, which is only one component of the YEDs approach to informing eighth graders, Hayden said.
"Aside from drugs and alcohol, the YEDs are their to inform the eighth graders of the changes and transitions of going from middle school to high school and the added pressure that comes with that," Hayden said.
The YEDs program has been around Piedmont for 15 years and follows a general curriculum that has been modified to fit the Piedmont atmosphere, Hayden said.
Current YED junior Alex Lopez said she has enjoyed being a YED and despite the interview process being stressful, she thinks the program is well-structured.
"Our first day with the middle schoolers was so fun, at first it was kinda nerve-wracking but then me and my partners really got into a flow and had a blast with the kids," Lopez said.
Lopez said she thinks people in the YEDs program should be involved for the right reasons and have a desire to make the right impact on the kids.
"It is great interacting with the middle schoolers," junior YED Sydney Willis said. "They're smart, so it is great hearing their new opinions about high school, peer pressure, and drugs."
Willis said that going back to the middle school was a hilarious experience because of how many of the eighth graders viewed her and her partners as big and scary, much the same way she viewed high schoolers when she attended the middle school.
"My middle school class has been very open and willing to listen to what we have to say," Willis said. "I really enjoy teaching them. "
Three YEDs are assigned to each middle school class.
"What we are trying to accomplish with the program is to give information to incoming high schoolers and inform them on situations they may come across so they can make the right decisions for themselves," Hayden said.