A Cappella Revue a blast from the past with blend of current and past tunes
As multiple generations of people come together in the seats of Alan Harvey Theater, so does the music, as classics from Paul Simon, Marvin Gaye, and Smokey Robinson blend with the sounds of Taylor Swift and Ed Sheeran. Students fly across the stage in carefully choreographed numbers, singing the songs of their generation, as well as past generations, bringing ages of people together through music.
The A Cappella Choir kicked off their annual revue on Friday, March 31 at 7:30 p.m. at the Alan Harvey Theater. Two more shows will follow on April 1 and 2 at the same time and location.
This year, Music Director Joseph Piazza chose the theme "Then and Now", which incorporates current music with music from the past.
"Mr. Piazza basically tried to pair songs from the sixties, seventies and eighties with songs in the 2000s and today, and I think it worked for the most part," said senior and chamber choir member Bryn Lawson. "Every song has a partner, and it's cool to see that people write about the same things that they did 50 years ago."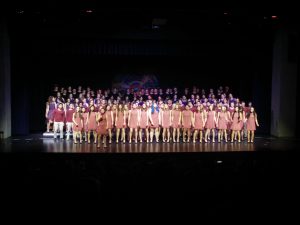 Beyond just trying to mix music of different eras, the show also featured more modern music than last year's performance, Lawson said.
"It's a bit more relatable," Lawson said. "This year is a bit more modern music, so people will hear more songs that they would hear on the radio than last year when it was vocal jazz."
The A Cappella choirs have been rehearsing for the revue ever since they got back from Winter Break in January. The choir also practiced 2 to 4 hours a night in the week leading up to the show, Lawson said.
"We had a lot of rehearsals, but it was fun and exciting too," said freshman and Beginning Girls Choir member Rebecca Willson.
Freshman and Beginning Boys Choir member Trevor Harmon agreed with Willson about the excitement surrounding the rehearsals and performance.
"It's been good. It's been a lot of practice after school," Harmon said. "We've had to go over all the songs and all the dance moves, but I think we've got it down."
Speaking more specifically about the excitement, Willson said singing with friends and for friends makes the show all the more exciting.
"There's a lot of excitement around being in a show for people, and being around your friends, so it's a lot of fun," Willson said. "I hope that the audience likes it, and no one messes up too badly."
On a final note, Lawson said she has high hopes for the rest of the revue, and that the choirs are getting in the groove of performing.
"We've got a really good group dynamic and all the choirs are melding well together," Lawson said. "Come see the revue!"