ASB dodgeball tournament rallies school spirit
Dodge, duck, dip, dive, dodge. These are the five rules of dodgeball that were followed during the dodgeball tournament that started April 19 in the Binks Gym during lunch.
The annual dodgeball tournament is led by the senior class president, Cade Becker, this year.
"Gracie Petty and Alisha Lewis delegated me and Rafael Stankiewicz to head the dodgeball tournament and I'm very excited," Becker said.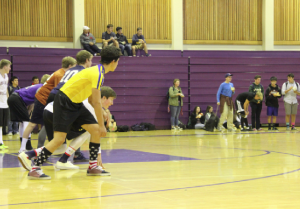 The ASB leaders of the dodgeball tournament have a lot of responsibilities, but members of ASB work really well together so it is not too hard, freshman representative Rafael Stankiewicz said.
"Cade and I were responsible for publicizing the tournament as well as making the sign-up forms, getting gym space for the tournament, and even getting the needed materials such as whistles and balls," Stankiewicz said.
The dodgeball tournament is always popular; 15 teams had already signed up as of March 31, Becker said.
"[The ASB class] will plug each team into a bracket calculator," Becker said. "This will randomize the team seedings and determine who plays who in the first round."
Every team needed to have six players in order to participate in the tourament. The teams could be composed of any gender and any grade.
Since there are no more rallies for the remainder of the school year, the championship game will be played at Day on the Green, Becker said.
"It's always fun to make the championship game public for the student body," Becker said. "We are hoping that it will be a fun addition to Day on the Green."
A team of sophomore boys won the tournament last year.
ASB will approach dodgeball this year with a different mindset than in previous years, Becker said.
"We are hopefully going to have two teacher referees per game this year," Becker said. "We are trying to make the tournament more respectful this year."
Last year, dodgeball got very competitive and a lot of fun was lost as a result, Becker said.
"There was that issue last year where people thought there was a lot of cheating involved in the tournament," Becker said. "No one was giving ASB the credit they deserved."
Students this year need to remember that dodgeball is just a game, ASB faculty advisor Mercedes Foster said.
"It frustrates me when students start to cheat during events like this," Foster said. "These students are missing the point of these games; it is to have fun and be supportive of each other."
Students need to keep in mind that everyone involved is trying their hardest, Foster said.
"We hold events such as dodgeball because we think it contributes something meaningful to the student experience," Foster said. "But nobody owes anybody [at PHS] a dodgeball game."
Having events such as dodgeball is very valuable to the student body, Foster said.
"We feel that dodgeball gives students a way to interact with each other during school that isn't graded," Foster said. "It bolsters school spirit."