DeBare and Bloomfield explore Jewish history
Standing at the infamous train tracks at Birkenau, a World War II death camp in Poland, seniors Danny DeBare and Cole Bloomfield try to distinguish the boundaries of the ruins of barracks, gas chambers and crematoriums that were used in the Holocaust, but they can't.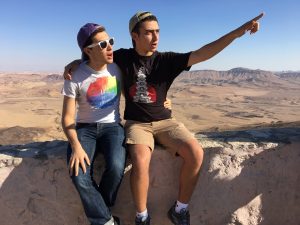 "It was just so expansive and never ending," DeBare said. "I can't even wrap my head around how many people were living and working in this area and all of [the buildings] were burnt to the ground because they were all made of wood."
DeBare and Bloomfield, along with 23 other Bay Area high school seniors, recently spent two weeks in Poland and Israel on a trip called ShalHevet, which is run by the Palo Alto Jewish Community Center and BBYO, a Jewish teen organization. The trip was led by a local rabbi, another staff member and a Holocaust survivor, Anne Marie, who lives in San Francisco.
The ShalHevet group spent the second week in Israel, continuing to follow the theme of vibrant Jewish life.
"Going to Israel after Poland wasn't just some random decision, 'Oh Israel is a Jewish state we are just going to go there and have fun,' but the point was after the Holocaust ended, many Holocaust survivors went to or tried to go to Israel, which at the time was controlled by the British," Bloomfield said.
Both Bloomfield and DeBare have visited Israel previously, but on this trip they experienced a different side of Israel. This included hearing stories from a woman from the Bedouin people, a group of nomadic Muslims who are not citizens of Israel, and playing with refugee children from South Sudan and Egypt, who similarly to the Bedouin people, have no rights in Israel.
"I think ShalHevet did a phenomenal job of showing us the less touristy side of Israel," DeBare said. "We had only six to seven days so we couldn't go to all the touristy sites, but instead we engaged in the contentious topics and they did a great job of exposing us to other viewpoints."
In addition to the relationships and experiences created internationally, the ShalHevet group formed strong connections amongst themselves. DeBare said that about 80 percent of the group knew each other going into the tour, but that by engaging through conversations, the group as a whole formed a deep relationship.
"After the Bedouin minority woman spoke to us we could just have taken it at face value and move on, but instead on the bus ride to the next place we dug deeper into her story, analyzed it more and talked about how that fell into context with the greater Israeli political model," DeBare said. "Those really engaging conversations took this trip, in my opinion, to the next level. It made it really a fully immersive, exciting learning experience."
Bloomfield's mother, Judy, and Bloomfield's father, Leon, both cited the learning aspect of the trip, as both of them said that the trip should not be mistaken for a vacation.
"It's not like we said 'Cole, you're a senior take a couple weeks go to a beach and relax,'" Leon said. "It's a completely different experience than that by a few degrees."
The two week experience is being treated as an independent study by the PHS administration. Independent study may just be the formal name, but Judy said that the title embodies the overall impact that the trip will have on DeBare and Bloomfield.
"For each of those kids in that trip there are things that they are all experiencing and taking away and there's something very unique that each kid will bring back from this," Judy said. "This is truly an independent study."
Even though DeBare and Bloomfield are now back at school surrounded by their Piedmont peers and engaging in daily activities, DeBare's mother, Esther Rogers, said that the individual learning and growth will outlive the trip.
"I am interested in what kind of long-term life impact this will have on them," Rogers said. "I don't know if they will know this now, but how is this going to resonate with them in 15 or 20 years, and what is the connection this trip is going to have for their future understanding of the world and understanding of Judaism and being Jewish."
Already, DeBare and Bloomfield and their decision to go on ShalHevet have already begun to influence their peers. Senior Elijah Levy, who has been friends with DeBare and Bloomfield since kindergarten, is interested in going to Israel, especially since Jewish people get a birthright trip to the Jewish-state.
"I think it's really cool and sounds like a good trip," Levy said.
Similarly to Levy's desire to go to Israel, DeBare said that he thinks every person, especially every Jew, should go to Poland and learn and see firsthand about the Holocaust.
"There are six million Jews, 11 million people who died in the Holocaust and I can't even wrap my head around what 10,000 people look like," DeBare said. "I'm just starting to conceptualize it by going to Poland and going to these places that these atrocities took place. I feel super privileged to have the ability and responsibility now to not only tell what I saw, but to encourage people to do the same."