Junior Reece Proctor goes the distance
Pat. Pat. Pat. His sneaker-clad feet spring off the track as his long legs extend in stride. His short, galaxy shorts and purple and white singlet sway to the beat of his footsteps. Last 100 meters. Crowd roaring. He pushes his legs faster, pumps his arms harder, his stride never faltering as he leaps to the front. Running his hardest, when no one thought he could go faster, he pushes to the lead. Crossing at 4:26.2, his best mile time ever.
Junior Reece Proctor competes on the PHS varsity men's cross country and track and field teams, as well as on a national scale. In track, he races in the 800 meter, one mile, and two mile events. In cross country, he races the varsity men's race, which usually is between two miles and five kilometers in distance.
Proctor's athletic ability makes him stand out on the team, Proctor's teammate, junior Sam White said.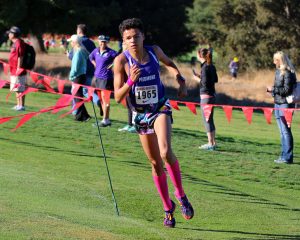 Proctor joined the cross country team in sixth grade, and the track and field team in seventh grade at PMS. His mother persuaded him to join the cross country team since he had no after-school activities in the fall.
"At first, I was really opposed to [cross country]," Proctor said. "Once I started running, for once in my life, I realized that it was a sport that I didn't really suck at."
Proctor said that when he first started running track and cross country, the positive atmosphere and the people who he met on the team made him want to continue.
Proctor said that before he ran, he did not enjoy the other sports he played, baseball and lacrosse. Proctor dropped his other sports in order to just run cross country and track. Proctor said that he likes running more than other sports because of the supportive nature of the team in comparison to his other sports.
"All of the other sporting environments that I had been in were really toxic, cross country just wasn't like that," Proctor said. "I really did like the fact that I could just go out there and work hard and I could get better without the pressures."
Proctor's favorite part of running are competitions because they have a fun atmosphere, and he gets to interact with people on different teams.
"He's always been very talkative and he makes friends with other players on the other teams," said cross country and track and field coach Jeanine Holmlund. "I just really admire that he's created a network for himself that's a little beyond our regular athlete on the team."
Since competitions are his favorite aspect of running, Proctor trains and practices hard in order to compete in more meets.
"I can't just race and compete because then I won't get better," Proctor said. "In track, only certain people advance and progress, and since I wanted to have the best competitions I could, I realized that training is a means to achieve that."
Because of his commitment, Proctor now trains seven days a week. Proctor runs with his team six days a week, and has meets on average around twice a week.
Outside of team practices, Proctor continues to train. He participates in programs after practice and in the off season. Every Tuesday, he works out on a treadmill at the YMCA. Proctor also runs with Strawberry Canyon, a college club in Berkeley. In the winter, Proctor travels to programs and camps all over the country to improve his skills.
During these training programs, Proctor said the hardest part for him is staying motivated and understanding that he needs to train to be successful.
"Unlike a lot of the people on the team, especially on cross country, I don't really enjoy running that much," Proctor said. "The hardest thing for me has been pushing myself to run when I do not want to."
Proctor said that his years of experience have taught him a lot about hard work.
"Track and cross country are interesting sports because you get out of them exactly what you put in," Proctor said. "It creates more motivation because it's so black and white that you have to work hard to get better since it's all up to you to carry yourself through a race."
Proctor's next step to work towards is talking to college running coaches. Then after college, Proctor said he potentially wants a coaching career.
"Because of running, [Proctor] has seen how if he wants to run and at a strong program, he has to be a very good student at the same time," Holmlund said.
Running has become a way of life for Proctor, and has allowed him to mature physically and mentally to become who he is today, Holmlund said.
"The running has made everything else really click together," Holmlund said.