Oakland Zoo volunteer project to revive Service Learning sentiment
Seniors will have the opportunity to participate in a morning of service by volunteering at the Oakland Zoo on May 19. This project seeks to revive the former PHS service learning program on a smaller scale, still allowing students to become aware of issues in their community and give back, senior Hanna Marcus said.
The former service learning program, which included projects for all grades, could not be properly funded by the school, interim co-principal Eric Mapes said.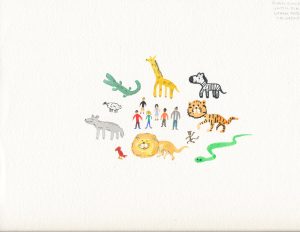 This year, during the morning before Day on the Green, seniors will be helping with habitat restoration. Because of liability, they cannot work directly with the animals at the zoo, Marcus said.
"It's one last hurrah before we graduate," Marcus said.
Social studies teacher and advisor for the service learning project Courtney Goen said that this activity will not only allow students to collaborate as a grade, but will also allow them to get out of their comfort zones.
"It's a way to get out of our classrooms and make a difference in a tangible way as opposed to just talking about making a difference," Goen said.
Marcus hopes that students will be encouraged to do more community service, either on a big or small scale.
"Living in Piedmont, we have lots of privileges that we do not fully realize until we step out and see places that do not have the same [advantages] as we do," senior Shannon Baack said.
Baack said that service learning allows individuals to realize how much need is present in communities so close to Piedmont.
Mapes, who has been working with Marcus and Goen to ensure the success of this project, said that it's important to give back to both the communities students are and are not a part of.
"There is something that is very deeply rooted in humans to help others," Mapes said.
Mapes also said that even small acts of service add up because there is value in each of them. For example, the seniors' activity will directly impact families who visit the Oakland Zoo.
"It's important to remember that everything is cyclical, so if we can communicate effectively to the students that what they do outside of school is important, then that's a good thing," Mapes said.
Despite the values of service learning, Mapes said that the school has to consider where they get funding from and which programs take priority over others.
"We had to remove the opportunity for a teacher to be the service learning coordinator. I'm glad it didn't end the program, but the program needed to take on a different form," Mapes said.
Projects of the former program included assembling care packages for homeless shelters in Oakland, writing advocacy letters, creating solar ovens, and volunteering at local organizations, such as food shelters, Marcus said.
"We made a real effort in years past for the service learning projects to tap into the curriculum that would be typical of that year," Goen said. "We had seniors doing things that were related to economic disparity to build on what they were learning in civics and [economics]."
Goen also said that real life application skills and empathy that come from service learning cannot be measured, which may have influenced the administration's decision to cut the former program.
"I thought it was devastating, but I understand that in education those kind of decisions need to be made," Goen said.
The project in May will be funded by grants from the Piedmont Appreciating Diversity Committee (PADC) the Piedmont Parents Club, who have been very supportive of service learning, Marcus said.
"I really didn't want to let them cut [the service learning program] without a fight," Marcus said. "When I expressed my interest and passion for the program to the administration, they completely supported me in making this a reality. They have been a pleasure to work with."
Goen said that because the former program was cut, an opportunity arose for any student who was interested to take on a leadership role.
"What [Marcus] is doing is the epitome of service learning," Goen said.
Goen said that Marcus's leadership brought the program back to life and encourages other students to take initiative.
"If there is something that matters to you, your voices can be heard," Goen said. "You can make a difference."
Mapes said that this is the students' school so when students have ideas, he wants to hear what they have to say.
"I want students to take initiative and come up with ideas to make this place and the experience you have as students more memorable, more meaningful and more important," Mapes said.