Orchestra wins 'superior' title at annual CMEA
Unanimous Superior. Meaning not only are they considered "superior," but all agree upon it. The string orchestra achieved this rating for their sight-reading skills and their practiced performances of "Variations on Drunken Sailor" by Richard Stephan, "Petite Suite" by Yukiko Nishimura and "Rhythm Dances" by Brian Balmages at the annual California Music Education Association (CMEA) festival on April 1 at El Cerrito High School.
"We've been preparing all year. Each class we continue to work on our pieces, and as CMEA [got] closer, we really [focused] in on the selections that we'll be performing," cellist senior Keith Sibal said.
The pieces were evaluated by three judges, who are usually music teachers and/or experts. If all three judges give the rating of "superior" to the orchestra, then they merit the title of "Unanimous Superior," concertmaster violinist senior Victoria Hou said.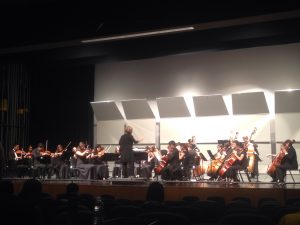 "Before CMEAs we went on tour and got a silver award, so it was a really big surprise to get superiors from all of the CMEA judges. I think we used the advice from the coaches at tour to help us improve for the CMEAs and that really played a big part in how we did," said second violin lead freshman Sophia Zalewski.
This is the first time the orchestra has won the title in over four years.
"Last year we had four pieces instead of three, so having three pieces let us focus on the details of those pieces instead of trying to stretch and do four," Hou said. "I think that's what sets this year apart from other years."
The CMEA evaluation also included a sight-reading portion. Students were given five minutes to look over a new piece of music before they played.
"Sight reading is something that we have to practice throughout the year and throughout our musical careers," Hou said. "You have to focus on intonation, rhythm, dynamics, stuff like that. Overall we have really strong sight-reading abilities."
Sight-reading was nerve-wracking, but still exciting, Sibal said.
"There's a certain quality that string instruments have and I think it's fun to play them in a really big group so all of the different tones and instruments blend together," Sibal said.
After a long day of performing, the orchestra celebrated their victory with their annual, traditional dinner at Little Shin Shin.
"We all sat at big family style tables, ate a lot of food and just had fun to celebrate being done with all the competition," Zalewski said.