Q: What art school are you currently enrolled in?
A:"Oxbow School in Napa, [California]."
Q: How long have you been there for?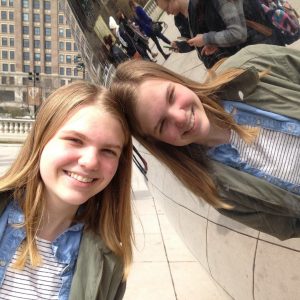 A: "Oh boy. About close to two months. It's a semester school, so I've been there about the same amount of time as you guys have been in your second semester. I started on the 18th of January … [and] it gets out at about mid-May."
Q: Why did you choose to apply to art school this year?
A: "Well, I was looking at summer art schools because I knew I wanted to do some art possibly for college and Piedmont has its art classes, but there's really only one class you can take, so I wanted to get some other stuff in."
Q: You said you liked what the school stood for. Can you elaborate on that?
A: "I think the way the school presented itself is a lot more about the way you work instead of outcomes essentially… Tests are kind of replaced with more conceptual thinking and developing how you solve problems, instead of getting a bunch of busy work.
I had a science project a couple of weeks ago where we had to take an issue from the area we were from and then make it into a project after doing a bunch of research about it."
Q: What problem did you choose to focus on?
A: "I talked about water pollution in California because I wanted to do something about water, but I felt that the drought was something that was just talked about too much.
I talked about pollution in the water and then I looked at third world countries that have water issues, solutions they've used and what we've done to keep our water clean. I live right on the river in Napa so I collected a bunch of garbage from the river and made a sculpture out of it."
Q: Why would a student want to enroll in art school as opposed to taking high school art courses?
A: "Well, [at Oxbow] there are a lot fewer students­—about 40 students in total. There's a lot more focus on you as an individual. You're a lot more independent.
[There's] definitely more of a creative process in everything you do [rather than strict structure] and a community aspect to it; the kids there are there to do things in a creative manner and are willing to help you, encourage you and challenge you. Lots of [the students] want to talk about problems in the world and how to fix things and are not afraid to say it. They are willing to stand up for what they believe in, but are willing to listen to other people and hear their opinions too. I feel like everyone is excited to be here and really takes everything at full value.
We have some pretty strange projects. One that we have been doing recently, Project X,  is where we get a fortune cookie and in each of them there's one word. My word was "zero." Somebody else's word was "midnight." Another person's word was "paradox." And then we have to create a whole art piece around that word by doing tons of research and coming up with ideas."
Q: In the days leading up to the art school semester, did you have any particular hopes or expectations about what the experience would be like? Did they differ from what you have experienced so far?
A: "I thought it would be a lot more straining on my confidence because I'm going to a school where I am living in such close quarters with people who are artists [from] all around. But when I got here it was a lot easier for me to put myself out there because I felt like I was being pushed and challenged to get better instead of giving up.
It was also a really supportive community where people would go up to you and tell you that your art is really good and have discussions with you about why it's really good and they understand that this is really challenging and they respect you for doing that."
Q:  Do you have any specific skills in art that you would like to work on?
A: "Right. We have 4 different studios: painting, new media, printmaking and sculpture and we can rotate through them however we want. I am personally more of a painter and I really like working 2D, so I can draw on the computer, paper and paint. But I think a great thing about this place is that you are encouraged to go outside your comfort zone and to find other things to be passionate about."
Q: Has art school helped with your future with art?
A: "Most definitely. That's a big reason why I came here, so I can get more stuff under my belt. And it's definitely something that I am passionate about, that I love to do.
What has been really helpful is seeing what paths in life I can take. Many of the faculty here are retired artists or are teachers who have shown us how they were successful. We have been visiting artists who aren't teachers, but who show us how they are successful artists in their real life and how they became so. I felt like this school was setting me up for success."