Students learn about their community through service and volunteer work
Last year, students put in over 26,000 hours of community service, volunteering both in Piedmont and in the wider Bay Area. This year, as in previous years, students who volunteer must log hours on Track It Forward by May 10 in order to have the hours recognized by the school, said director of the College and Career Center Allison Bly.
The hours may count towards the Honor Society requirement, a service award or simply student gratification, Bly said.
To qualify for Honor Society, in addition to a 3.6 weighted GPA, students must obtain 15 community service hours as a sophomore, 25 as a junior and 35 as a senior, according to the PHS website.
Bly said that she believes the Honor Society should be unrelated to community service, as it is meant as an academic award.
"It's not really fair that a student who has a 4.2 GPA doesn't get in Honors Society because they didn't have the hours," Bly said. "They should [volunteer] because they want to help other people, not because they are forced to."
Piedmont Community Service Crew (PCSC) president senior Nina Adarkar said that the Honor Society requirement influences the service of some, but not all, students.
"I think [Honor Society] definitely factors in, and it's a good thing for college applications too, so I think that plays into why PCSC has been so successful," Adarkar said.
For senior Olivia Creighton, the Honor Society requirement had no impact on her decision to volunteer.
"I feel that the community service I've done I would have done regardless," Creighton said.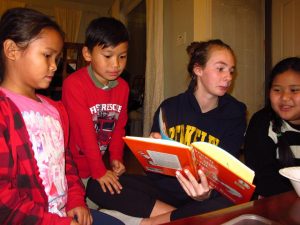 PCSC attracts students looking to volunteer because of the wide variety of volunteering opportunities the coed venturing crew provides, Adarkar said. A venture crew is a boy scout affiliated community service and activity oriented organization.
"We have trial maintenance, we also cook hot meals for people, at Saint Mary's center we do the meal plan and the grocery shopping and everything, every Thursday we have an event where we go tutor Burmese refugees in a house in Oakland," Adarkar said. "We have a lot of different types of events and you can just pick and choose, which I think is the best part about the crew."
One of the largest annual PCSC events, their partnered event with Rebuilding Together Oakland, will take place the weekends of April 22 and April 29, said PCSC vice president of administration junior Maya Guzdar. Students who participate will rebuild Oakland houses for families who could not otherwise afford to rebuild.
"It's an amazing project," Guzdar said. "We change people's lives."
Key Club also provides service opportunities to students, organizing fun service events each week. A national organization, Key Club is present in 81 countries, said former club president senior Angela Zhou.
"We usually do club events," Zhou said. "We went to a medical nonprofit and sorted medical supplies, we went to a community pantry and helped them out."
Students such as freshman Sam Christensen also choose to volunteer on the annual Mexico trip, organized by the Piedmont Community Church.
"Service is important to develop at a young age," Christensen said.
Community service is especially important in Piedmont, as students can be sheltered in the small community, Adarkar said.
"We can get really focused on getting homework done, being Piedmont oriented, but getting out, even like 10 minutes away to Oakland or to Berkeley is really eye opening, putting energy into something that isn't your homework or yourself," Adarkar said.
Guzdar said that the Piedmont community acts like a bubble, augmenting the importance of community service and social awareness.
"It totally puts things in perspective and I think it's so healthy," Guzdar said.
PCSC member junior Max West said that service brings communities together.
"I think it's very important for communities to work together to make sure that all people have access to basic human rights and standards of living," West said. "I also think it's really important for students to see different people from different backgrounds, different socio-economic situations."
Creighton said community service will shape career decisions after high school. Creighton volunteers at Oakland Elizabeth house, a transitional home for women and children.
"I feel like I've learned a lot about the diversity of where we live and about people living in situations different than my own," Creighton said. "I think it's very informative."
The variety of community service options in the Bay Area allow students to align their service with their interests. Senior Melissa Quantz volunteers at Berkeley Animal Shelter and with the PAW fund, reflecting her interest in animals.