Signing up for the future
In state or out of state? SAT or ACT? Tutor or no tutor? Sports in college? Big school or small school? Two year college? No college? Grad school? Major? Do I have to know now?
Piled on top of a student's schoolwork is the extra burden and excitement of having to eventually figure out post-high school plans. Everyone is at a different point in knowing what will happen in the future and in coping with the inevitable process.
"A way to alleviate this feeling of 'Everything's so rushed,' is for students to start dialing in early, now," said co-founder of Hays-Phillips College Consulting Paul Hays. "That is the main difference between [the young] generation and past generations. You're being forced to start this process earlier. And a lot of students get stressed about it."
Director of the College and Career Center Allison Bly agreed and said students now are having to start thinking about college earlier than past students.
"A lot of times I'm seeing students as juniors, so they're 16, maybe 17, and they're being expected to figure out what major they want," Bly said.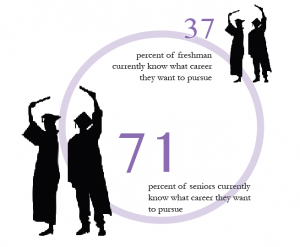 Bigger universities require students to declare a major earlier since acceptance to specific majors, like engineering, are lower. However, liberal arts school often give students until second semester of their sophomore year to declare a major, Bly said.
"What students also need to think about is that their major doesn't necessarily dictate their career," Bly said. "You can have a major and go in a completely different direction when you start your career. You're developing transferable skills that can be used in a different career. There are so many career fields that are open to you, and people change their careers many times."
Junior Olivia Adams, who has wanted to study graphic design in college since last year, agrees with Bly and believes that keeping her mind open to other opportunities is necessary.
"There's a part of me that's not totally set on the idea of going into graphic design because I don't want to limit myself at 17 years old," Adams said. "That's why I am still taking a science class and two math classes because I still do want to explore other areas, even though I have an idea."
Before declaring a major, students must first figure out where they want to go for college and how they want to apply: Early Decision, Early Action or Regular Decision.
"Early decision is the form of applying to school where you have to commit to that school at the point of application," Hays said. "Now that's not necessarily the case for early action, which is noncommittal. I would say that policy is a mixed bag. Psychologically, it's a wonderful thing because when students find out in December of their senior year that they've been accepted to a school, even if it's not their first choice, it has a tremendously positive effect on students relaxing and concentrating."
In Hays' experience, more students every year have been choosing the path of early decision and early action, simply starting the college process earlier. This trend is caused by more colleges changing the admission and enrollment policy and process, forcing motivated students to apply early, Hays said.
"The dark side of all of this is it's forcing students to decide or formulate an opinion where most of them aren't prepared to do so," Hays said. "It's not a natural process for many of the students. A lot of students start second guessing themselves and that can have a haunting effect."
For the most part though, students know what they what they like and dislike, and what they're good at and bad at. This carries over into students motivation for the college process, Adams said.
"If someone is self motivated, then it is more likely they will figure out early on what they want to do because they're motivated to do that," Adams said. "Rather than someone who isn't as motivated, then I notice that they complain more about pressure from the parents or from their friends and family, always asking what they want to do, where they want to be."
A lot of times, parents or the school counselors will encourage students to schedule meetings with a college counselor, like her, in order to get started with the college process, Bly said.
"Because [students] don't have to come see me, a lot of times the students who do come are the ones who know that they have to get information, so they want to learn about what it takes to get into school," Bly said. "I think the students who don't come in to see me might be the ones who are more afraid. They might be in denial a little bit or they might think 'Oh I can just wait and it doesn't matter and I don't need to think about it right now.'"
Adams said that she is familiar with the experience of being anxious about exploring colleges, like many other high school students.
"Growing up, the idea of college has always been really scary and up until maybe last semester, it was always still a really scary concept for me," Adams said. "But just until recently, it's become a fun thing to do and it's all about just changing your perspective and your attitude going into something rather than being like 'I have to decide what I need to do, I have to decide where I want to go,' it's 'I get to decide, I get this opportunity.'"
Another way students go about the college process is by committing to sports. Out of the 8 million students playing sports at the high school level, only 480,000 will go on to compete at the NCAA collegiate level. From there, the numbers continue to go down. Only 9.1% of college baseball players will be drafted to the majors and only 1.4% of football players will be drafted into the NFL, according to the NCAA website.
More kids are participating in competitive club sports at a younger age with the goal of becoming a college level athlete, Savage said.
"I'm seeing more of an emphasis at a younger age on kids to try to get into school based upon sports," Savage said. "I don't know if that's a good thing or a bad thing but it's like 'Hey, I'm in eighth grade, I need to start thinking about college for sports, so I'm going to start getting involved in a club sport at a younger and younger age.'"
Senior Sam Rosenbaum began playing lacrosse in seventh grade and has been committed to going to Bucknell for lacrosse, a Division I school, since July of 2015.
"I always wanted to play in college but I didn't really think that Division I would be possible until after my freshman season," Rosenbaum said.
Despite being committed between his sophomore and junior years, he was one of the last on his travel club team to be committed to a school, Rosenbaum said.
"It was something I was working towards for the past couple years and lacrosse recruiting is really early," Rosenbaum said. "If you're not committed going into junior year, you're not going to play Division I lacrosse. Most of my travel teammates had already been committed for a year."
This idea of going to college for sports is becoming more a more influential for kids at earlier ages, Savage said. More kids are becoming involved with one particular sport at younger ages wiping out the opportunity for them to try other sports.
"College athletics at the varsity level should not be an end goal because a lot of kids aren't going to make it," Savage said. "There is a vibrant, super exciting club scene. Let's say you're not the best player on the team but you still want to continue playing, every school has club baseball, softball, basketball, whatever, for you to continue playing competitive sports or to get started in a competitive sport. Just search it out and being on that team, you will immediately have a social network and people to hang out with who are like minded and you will be integrated vertically in the school."
Sports is just one of many ways students help themselves with the anxiety of committing to college and the future, whether they continue with that sport or not. Outside of the United States, commitment to one's future begins at a much younger age, said sophomore German exchange student Celina Pankau.
"First you go in the Kindergarten, and that's optional," Pankau said. "And then you go primary school, with other kids. It is from one to fourth grade. And then you can choose between three different kinds of schools. One is more easy, [Hauptschule], one is middle, [Realschule] and one is hard, [Gymnasium]."
Hauptschule goes until ninth grade, Realschule goes until tenth grade and Gymnasium goes until twelfth or thirteenth grade, Pankau said.
"It wasn't that hard for me [to choose which school to go to] because it just felt right," Pankau said, who is attending Gymnasium.
Instead of going to college, Pankau said she might want to do an integrated degree program, where she can take classes at a university but also have some sort of apprenticeship or work.
"I don't even know if I want to go to college," Pankau said. "My parents never talked to me about it or said 'you have to go to college' or 'this is a good college.' I don't know what I'm doing yet."
Despite all of the different paths that can be taken, most students do well with whatever they choose, Hays said.
"I don't think anybody should be made to feel they have to do anything in regard to [the college process]," Hays said. "They should be given the facts and they should be able to make a decision of what's best for them, and that takes advice. The good news is that if you do it right, it can be a positive [experience] You can go through without it taking away from your life as it often times does."