Through a superficial lens, a grid scattered with X's may seem like nothing more than a means to tell time. However, upon focusing the lens onto each individual box, one can realize that this simple calendar is in fact a way of determining one's life. Between the weighted classes, high school and club sports, community service, school clubs and other extracurriculars that students pursue, these boxes are flooded with activities. In parallel with the list of commitments filling each box, these activities manage to jump off the calendar and infiltrate their everyday lives.
"I spend up to eight hours a week on Mock Trial, four hours a week on Piedmont Community Service Crew (PCSC), two hours a week on Venturing Officer's Association, and am also in acting, water polo and Ground Crew," junior Maya Guzdar said.
Guzdar said that she realized the epidemic of over scheduling in her sophomore year, and had a desire to raise awareness of the issue.
"I did my PSA in sophomore year on 'carving your calendar,' because I was doing a lot of extracurriculars that I did not really enjoy," Guzdar said.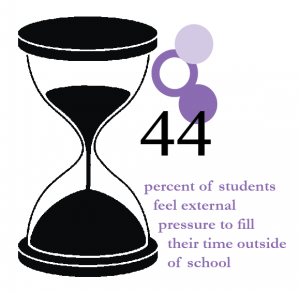 Teen therapist, Dr. Ted Obbard said that stress can be a result of of both too many and too few commitments.
"Usually when teens are overcommited, they experience more of the day to day stress," Obbard said. "When teens are under committed, they will experience the big picture stress."
The day to day stress consists of concerns about getting through a busy schedule, whereas big picture stress is feeling unprepared for the future, Obbard said.
"People feel stressed when they have more commitments than they do resources," Obbard said.
In addition to requiring a balance between commitments and resources, the lack of internal confidence is another major contributor to stress, Obbard said.
"Parents have not been as good at structuring and building a sense of confidence and resiliency in their kids," Obbard said. "If teens are never given the opportunity to fail, then they will never build resiliency."
Many parents feel a great deal of pressure for their kids to be high-achieving, Obbard said.
"A lot of support is available to prop up their kids' performance: if their kid is struggling in school they will get a tutor, or if they start playing baseball they will get a hitting coach," Obbard said. "This leads to achievement, but the teens will never build the internal confidence to know that they can deal with failure."
Sophomore Aviv Ratinsky has developed internal confidence through his progression in rock climbing.
"I used to try a lot of different extracurriculars, but now that I've found climbing, I don't really feel the need to try out a lot of different things," Ratinsky said.
Ratinsky enjoys having a single extracurricular to which he is fully devoted, as he feels as though he can invest all his resources into that commitment.
"Now that I know what I want to do, I know that I can put money and effort in it, and know I won't stop doing it in a month or a year," Ratinsky said.
Ratinsky has now developed a strategy in determining whether or not he wants to continue with a commitment.
"After the one year hump, you ask yourself: 'Do I want to keep doing this?'" Ratinsky said. "I haven't had any second thoughts about climbing."
Guzdar utilizes a similar strategy in selecting her commitments.
"Upon being asked if I want to do something, I will now take time to make a pros and cons list, and take a week to think about everything, and make sure I really enjoy what I am doing, and ask myself 'Why am I doing this?'" Guzdar said.
Guzdar used this strategy when turning down the opportunity to participate in the Youth Educators program (YEDs) and lacrosse.
"YEDs is also a team, and now they have an empty spot in the program because of me," Guzdar said. "It was really hard for me to quit, but I had to put myself first."
Following your passions and putting yourself first can be especially hard in Piedmont, as there is an expectation to fit the mold Piedmont has placed in regards to academics and extracurriculars, Guzdar said.
"Piedmont puts so much pressure on academics, especially in junior year," Guzdar said. "I love extracurriculars because it's a way to escape from that and remind myself of what really matters."
However, extracurriculars also play a much larger role in Guzdar's life than merely offering an escape from the pressures of academics.
"With extracurriculars and things you choose to do and willingly devote your time and energy towards, it becomes your thing," Guzdar said. "It's not about getting the A, but rather you wanting to do amazing in your Mock Trial presentation or set up a great PCSC event. You're doing it for yourself."
In addition to doing activities for yourself, there are other aspects that make a commitment, Guzdar said.
"There is a stigma about having the most extracurriculars and the hardest classes, but what matters in the end is the amount you get out of it and the passion. That's what makes a commitment," Guzdar said.
A slightly different meaning comes to mind when Ratinsky hears the term commitment.
"Committing to something isn't about how good you are. It's about asking yourself 'Can I wake up and do this everyday for the rest of my life?'" Ratinsky said.
For senior Dara Kasrovi that lifelong activity is soccer. He plays for both his Bay Oaks club and high school soccer team, experiencing multiple ranges of commitment levels.
"It's way more serious at the club and academy level: everyone's there to show themselves and get looks from college coaches," Kasrovi said. "High school is a lot more for fun; it's a totally different commitment level."
The increased seriousness of the club level directly correlates with the amount of commitment from the players on the team, Kasrovi said.
"I find the people on the club level to be much more committed to the sport and the team," Kasrovi said. "High school players are still very committed, it's just a different game and a different level in club."
There is a different focus in one's dedication for both club and high school teams, Kasrovi said.
"High school is all about fighting for your school, and your school pride," Kasrovi said. "The club commitment is towards the goal of playing at the next level in college."
Kasrovi felt the loyalty to the team throughout his career on the high school team, even though he was never assigned a leadership position.
"I still felt like a leader on the team," Kasrovi said. "I led by example, and even felt like a vocal leader on the field. That feeling of leadership definitely played into my commitment."
In putting his commitments into perspective, Kasrovi is able to manage his time much more efficiently.
"When I finally found that balance of school and athletics, everything became easier," Kasrovi said. "School became easier, hanging out with friends became easier and really everything else felt easier."
Sophomore Dylan Thayer has experienced ease in his courses thus far, and is therefore planning on increasing his workload in the future.
"I feel like I haven't really been challenged so far in high school," Thayer said. "A lot of it is about pace, so a lot of the classes I will be taking next year are just faster."
Thayer plans to take AP Biology, AP Calculus BC, Honors Physics, Honors English, AP U.S. History, AP Computer Science Principles and Honors Spanish next year.
Thayer does not fear his heavy schedule, yet he reflected on the possibility of the overwhelming nature of taking seven weighted classes.
"I would consider switching my courses if stress or workload became too much, but if I make a commitment I aim to keep it," Thayer said.
Thayer has had this driven and persistent mentality for as long as he can remember, crediting this mindset to his upbringing.
"I don't view myself as an overachiever, I just do what is given to me. I also like to push myself, and challenge myself," Thayer said.