All-School Assembly addresses recent anti-Semitic hate speech
During 5th period on May 8 in the PHS gym, a collection of six students performed a brief all-school assembly, which was organized by the administration to address what was acknowledged as a pattern of hate speech on campus.
Initial reports from a student regarding anti-semitism in his freshman P.E. class spurred administrative action on the subject. According to one anonymous student's story read during the assembly, the incidents ranged from verbal taunts and name-calling, to Holocaust jokes, to the appearance of swastikas on campus.
"These are not jokes. This is not normal, this is hate speech," said junior Kay Sibal, who was one of two students speakers that led the assembly.
Throughout the entirety of the roughly half hour presentation, not a single teacher or administrator addressed the audience.
"We are here today to begin a conversation as a community about hate speech," said Sibal, adding that the assembly did not intend to target individuals.
Sibal's introduction was followed by four student speakers who read written remarks from anonymous students. In addition to the P.E. class anti-semitism, the stories also covered difficulties faced by students in minority groups such as African Americans, Asian Americans, and the LGBTQ community.
One student wrote about becoming numb to small insults about his Jewish faith after hearing jokes several times each day at school. An African American student addressed the use of the "N-word" by their caucasian peers.
Freshman Soren Call said he found the assembly powerful and impactful despite the anonymity of the stories.
"I think that [the assembly] should happen every year," sophomore Addison Darden said. "If it happened more often it could be so much more impactful."
In the Fall semester of this year, senior Amalia Roy proposed an assembly of a similar nature. She had worked to collect anonymous stories from people of all ethnicities at PHS and MHS to discuss both microaggressions and more overt racism. Roy's assembly and the proposed African American parents night did not occur this school year. The administration would like to follow up with the assembly for next school year.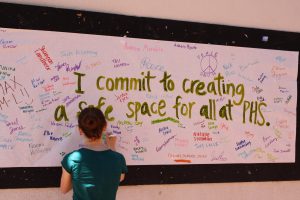 While the students were in the assembly, Superintendent Randall Booker sent an email letter home to PUSD families on May 8 regarding the Monday assembly. In the letter, he acknowledged the anti-semitic behavior.
"The verbal and physical taunts that prompted the assembly have been occurring for several months, although these were first brought to the attention of school officials on April 24," according to Booker's letter. "Since that day, we have been investigating and talking with victims, witnesses, those accused, and with parents, as well as getting support from the Piedmont Police Department and the Piedmont Appreciating Diversity Committee."
The administration has begun taking disciplinary action towards students involved in the hate-motivated incidents and 12 suspensions have been made so far. Other disciplinary action for additional students is pending.