Congresswoman Barbara Lee visits PHS to surprise the winner of California District 13 Congressional Art Competition
Congresswoman Barbara Lee visited PHS Friday, May 12 to personally congratulate and surprise the California District 13 winner of the Congressional Art Competition, junior Edwyna Zhu.
The Congressional Art Competition is a nationwide visual arts contest for high school students and the winning artwork is displayed in the U.S. Capitol for one year.
"Often we forget about art in politics, and I think it's so important that elected officials encourage participation in the arts," Lee said.
Zhu entered her painting called "Glory", which conveys a message of the importance of unity. Zhu had no idea her painting won until Lee surprised her with the announcement during Zhu's fourth period class.  
"[The competition] is a really good platform to project any message and I think it is important to promote unity," Zhu said. "I just saw it as a unique way to share my voice."
Zhu also said that because there were a lot of impressive art pieces submitted to the competition, she thought her chances of winning her low.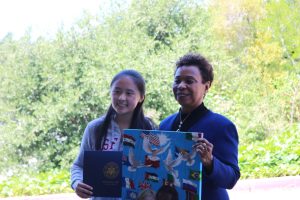 "It was the best surprise I've had in a long time," Zhu said.
According to the U.S. House of Representatives website, the art competition began in 1982. Lee said that the competition is still important in today's political climate because of the national administration's attempts to decrease the national endowment for the arts.
"Our musicians and our artists are really providing the spirit that this country needs, that our district needs, to keep us moving forward and to make sure that the world is a peaceful place," Lee said. "The creative spirit has to be kept alive."
Zhu's parents, Eddie and Jessie Zhu, said that Edwyna first found her creative spirit with visual art in middle school.
"She has a lot of passion for the arts and music," Eddie said. "When she is really into it, she can do anything and because of art she has become happier."
This power of art extends beyond just the creators of it. When Congress members walk through the area in the Capitol where the competition winning artwork is displayed, it settles them down, Lee said.
"[The art hangs] in the area where we go from our offices to the Capitol," Lee said. "Usually we are dealing with a lot of heavy stuff such as how to stop budget cuts in the arts or how to keep us from going to war."
A panel of judges decide the winning art piece for each district and each year, the winners of the contest receive tickets to Washington D.C. for an awards ceremony, according to the U.S. House of Representatives website.