Day on the Green 2017 Photo Gallery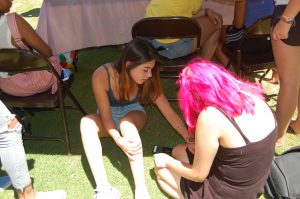 Ramona Jasman-Rios (right), sophomore: I didn't really want to go to Day on the Green, but I was dragged here by my friends. I'm a good artist and I'm stuck here doing Henna.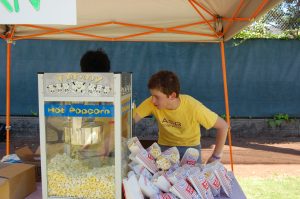 Max Roitblat (right), sophomore: Day on the Green is really fun. We get here to set up really early, but it all pays off to see everyone enjoying the event and having fun. And we get to serve great food.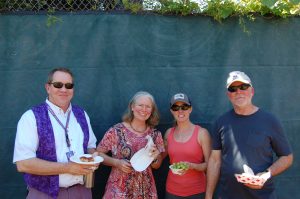 Ed Mahoney (right), teacher: We point and gossip about students. Anne Aldridge Peacock (second from left), teacher: We make sure the popcorn guys don't hurt anyone. We try to solve the world's problems, and sometimes play volleyball or do henna.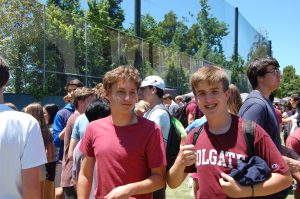 Pierce St. Claire (right), freshman: I really like Day on the Green so far. There's so much good food. I love it so much. I get to eat so much. It's so great.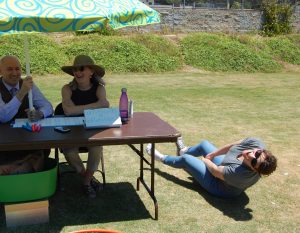 Mercedes Foster (right), teacher: I know the permission slips are a pain in the neck, but it was the only way we could get insurance for the bouncy experiences. I'm happy to say that about 500 members of the student body turned their permission slips in. There were a few whose permission slips seem to be misplaced, but everyone's been a good sport about it and seems to understand.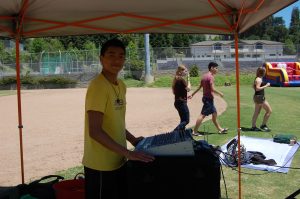 Princeton Liu, senior: It's an amazing experience deejaying. I love seeing all the people around me dancing. All those people who just put their hands up for me, it's just great.
PHOTO GALLERY: