A glance beyond Rygg as a model and a student
The sound of ten feet running towards senior Lea Rygg caught her attention as she paid the cashier for her ice cream at a local gas station. A woman with her two dogs, muddy and out of breath from a long hike, excitedly inquired if Rygg ever considered becoming a model.
"And that's my beginning," Rygg said.
Rygg first joined a modeling agency when she was 11 and living in Oslo, Norway. Ever since then, she has been involved with the art form through fashion shows and photo shoots.
"I saw that she had a talent for it, so I thought I shouldn't stop her," Rygg's mom Gro Janicke said. "It really seemed like it was her thing."
The agency in Norway, called EB Models connec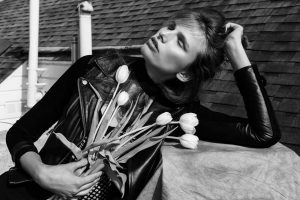 ted Rygg with other companies, allowing her to realize her passion for modeling. Even while living in the U.S., Rygg continues to work for EB Models but also models in partnership with other companies.
"My mother agency is in Norway," Rygg said. "I always have that agency and I'm always with them first."
Rygg lived in Norway until she moved to the U.S. in 8th grade. When Rygg was 16, her agency in Norway introduced her to IMG Models, who she went to New York City with for two months.
"The actual art of it is very beautiful; it's like an art piece," Rygg said. "You can make so much with the picture, the makeup and the clothes."
Janicke said that modeling takes a specific talent to do it well and compared it to acting.
"You're not just a doll or mannequin or an empty sculpture that wears clothes," Janicke said. "Models have to play and interact with the photographer to get the right poses."
Rygg said she enjoys photo shoots more than fashion shows because they are more personal and she is able to truly create something artistic. Most commonly, Rygg models for editorial or commercial photo shoots.
"I don't like commercial as much because it just shows your face or the clothes," Rygg said. "But for editorial, you can be more artsy and play around with it which is more fun for both parties."
However, Rygg said she also enjoys fashion shows because they are full of inspiration as the other models are so passionate for what they do.
"Modeling also boosted my self esteem because I've always been the tall, non-athletic one," Rygg said. "It has just introduced to me an art which I am very interested in."
Janicke said that she admires how Rygg has stayed true to herself throughout her experiences with modeling.
Senior Krysia Olszewska first got to know Rygg in 8th grade and they reconnected when Rygg moved back to the U.S. for senior year.
"[Rygg is] really optimistic and energetic about everything she does," Olszewska said. "She is really good at finding opportunities because she's not the kind of person who just waits around for something to happen."
Olszewska also said that Rygg's involvement in modeling is fascinating, but Rygg doesn't talk about it often because she separates her school life from modeling as it is more of a hobby.
"She's really humble about it and that inspires me," Olszewska said. "Knowing that you have a passion or something that you are really good at is a great thing, but being humble about it is even more honorable."
Despite the reasons Rygg has continued to pursue her passion for modeling, she said there are drawbacks in the industry.
"Agencies will measure me and be like 'You're too big, you're too tall,'" Rygg said. "There is judgement if you don't have the right measurements so I often feel like they are out to get me."
Models require certain measurements because the clothes are made to that size which conveys the societal pressure to have a specific body type, Rygg said.
"At the level [Rygg] is at now, to get bigger jobs, you need extremely [small] measurements and that is the hard thing that makes both of us think twice about her continuing," Janicke said.
However, for part-time or non-professional models, modeling is something positive and a beautiful form of art, Janicke said.
"I was thinking about pursuing a [full-time] career in modeling, but I don't think it fits my values the whole time because there are parts of it that I love and parts which I get annoyed about," Rygg said.
Rygg said she currently experiments with sewing and that in the future, she would consider continuing this to stay involved with the fashion industry in a more artistic way.
"Modeling is definitely something you need to spend a lot of time on," Rygg said. "I can't do that when I'm in school and I focused more on college because I think that's more important."
However, this semester Rygg took a free period and uses the extra time to do photo shoots or schedule appointments with agencies.
"Agencies don't like people studying because [the models] will always be prioritizing," Rygg said. "If you have a big exam and a shoot or big fashion show, what do you do? So I'm saying college is first and my hobby is modeling."
Rygg, when considering colleges, said she looked at Fordham University because it has the perfect location for modeling, but the classes do not fit her academic criteria.
"I prioritized Northeastern because I felt that it was more important to have a good school," Rygg said.