Exiting faculty necessitates extensive hiring process
The PUSD administration has begun the process of hiring new teachers to fill the positions of the nine teachers at PHS and MHS who will leave their positions at the end of the school year.
Seven teachers will leave PHS and MHS permanently and two teachers will take a one year leave of absence, returning in the 2018-2019 school year.
Ceramics teacher Susan Simonds will retire at the end of this school year after teaching for 30 years, 13 of which were at PHS.
"I have 30 years of teaching in, so it's just time," Simonds said. "I want to let someone new come in with more energy and new ideas."
Math teacher Edmund Mahoney is retiring at the end of this school year after 38 years of teaching at PHS.
"My wife and I are moving into a new community," Mahoney said.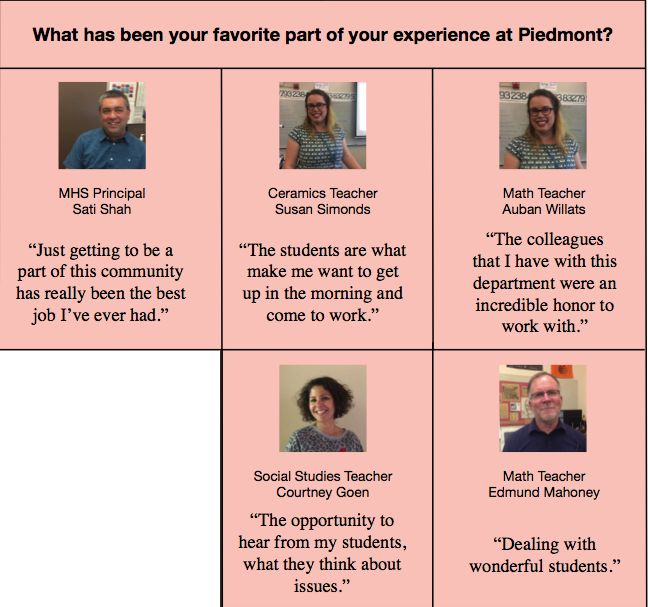 MHS principal Sati Shah will not return to MHS in the next school year, since he took a job as Mount Shasta High's principal and associate superintendent in the Siskiyou Union high school district.
"Mount Shasta is a place that [Shah and his wife] both really love, and always thought that one day we would live there," Shah said. "We did not realize that we would have the opportunity so soon, but when the job became available, we both felt like it was something important to pursue."
Shah worked as a science teacher for 11 years and as principal for the remaining two. Shah said that he is proud of the cohesion and progress that MHS has achieved during his 13 years at the school.
"I have really enjoyed my time here at MHS, and the MHS community has been my family for the last 13 years," Shah said. "While I am really excited to be moving into something that I think is going to be really positive for me and my family, it is hard to say goodbye to MHS. I have really appreciated everything that the school and PUSD has done for me."
Social science teacher Courtney Goen said that she will be leaving this year to work on social justice projects and teach at community colleges, including Diablo Valley College.
"I have had a tremendous time at PHS and leaving is really bittersweet," Goen said. "It is just time for a different adventure for me, but I am so grateful for the experiences that I have had with students, teachers, community members. I'll really miss it."
Math teacher Auban Willats said she will resign from PHS at the end of this year.
"Mr. Willats is taking a leave for the next year so we are going to take our kids and travel for a year," Willats said. "It felt like a good time to try something new since my job status here was a little questionable for the next year and my daughters are both still in elementary school."
PHS librarian Susan Stutzman and MHS math and social science teacher Richard Meyers will remain on leave and not return to teach in the next school year.
To fill the empty positions, the school board and administration have begun to hire new teachers.
"Right now, we are needing to hire a couple of math teachers," interim PHS co-principal Eric Mapes said. "We are not hiring any more English. Because Mr. Willats is taking a leave, we will have to find someone to replace him."
To hire a new MHS principal, the school board will work in collaboration with a committee of members of the MHS community, including students, parents, teachers, district administrators, and superintendent Randall Booker.
"The hope is to have a new principal approved by the School Board and to be able to appoint the new principal by the June 14th board meeting," Shah said.
Mapes said that no more teachers than previous years are leaving, but PHS will need to hire more teachers because of the increasing number of students for the next few years.
"We are adding an additional 50 students," Mapes said. "Right now we are at about 805, we will be 855-860 next year."
Mapes said that the new staff will prevent the rising student population from affecting class sizes.
"We don't want to have 35 in a class, so that means you have to hire more staff," Mapes said.
Sophomore Cole Stephens said that the new teachers will bring a different atmosphere to the school because of the difference in each of their personal teaching styles.
Stephens said that he feels optimistic about the incoming teachers.
"PHS is a very good environment for a teacher to thrive," Stephens said. "The new teachers will settle in nicely."