Oakland Zoo Service Learning
On Friday, May 19, volunteers from the class of 2017 piled onto buses and headed to the Oakland Zoo, where they spent the morning doing community service work and then visiting the zoo.
The volunteer work consisted of weeding, clearing out an area for a new project, and pulling out a plant that could be used to help feed the zoo's giraffes. The seniors worked together on this project for the first hour and a half, before being admitted as visitors into the zoo and viewing the animals and species.
"I really liked wandering around and seeing all the animals, but it was also really rewarding to clean up the area," senior Katy Savage said.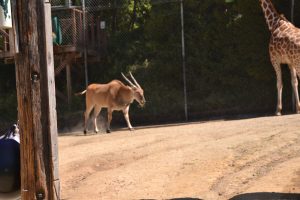 Savage said the work was rewarding because the plants were going to be fed to the giraffes and she could see the difference of the area before and after.
"Weeding is not one of my favorite activities, but it was nice to be with everyone, doing it together," senior Annika Heuser said.
Savage as well as Heuser said they would recommend the zoo trip for future grades.
"I think if it had been done by the three people they had, like they mentioned, it would have taken a really long time," Heuser said. "I'm glad that we were able to come together and just do it in like 90 minutes."
Senior Cato Leist said he enjoyed the work as well as seeing the animals.
"They had a very specific purpose for [the work], or else they wouldn't have had us do it, but I couldn't really see the goal in it," Leist said.
Leist said he would recommend future grades to do some sort of community service before Day on the Green, but not necessarily the same trip.
"I think it's important to not give up the community service aspect of this day because it's nice to have a lot of fun, but it's also important to help other people out," Savage said.
Leist said visiting the zoo was a bit nostalgic since the last time he had visited the zoo was around fourth grade.
"The zoo is really fun," Heuser said. "It's better than school."