School Board introduces new PHS Principal Adam Littlefield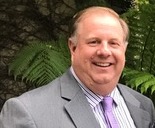 On Wednesday, April 26, the Board of Education
of the Piedmont Unified School District voted
unanimously to appoint Adam Littlefield as the new
Principal for Piedmont High School, effective
July 1.
Q: What do you want the students and community of PHS to know about you?
A: "They should know that I'm a people-person but kind of crazy. I will be walking around at some point in time with purple and white tennis shoes. I like to have a sense of humor, but I also want to create an environment where there is powerful teaching and learning. I'm very much a 'roll up my sleeves' kind of person when it comes to digging into the work that I need to do. I'm excited about being here."
Q: What is your experience as an administrator?
A: "I have been a school administrator since 1995. I have been an assistant principal for a high school for two years. I've been a coordinator for a technology high school which I helped start for several years. I have been an elementary school teacher for four years and I have been a high school principal for about 16 years and also during that time I coordinated the technology of the school district as well as served as a student services administrator. And so I have about 22 years as a student administrator."
Q: What made you want to become an educator and administrator?
A: "I would say the thing that drives me the most is wanting to make the difference in the lives of young people. And so that's what led me to becoming a teacher. There were teachers and administrators that were influential in my life that led me to that position. And while I was a teacher I felt a need to try to influence more than just the students that I taught so I became an administrator to do that."
Q: What compelled you to take the job at Piedmont High School?
A: "About 20 years ago, I visited a school as part of an accreditation visit where a high school, a middle school and an elementary school were all part of the same complex. It fascinated me to the point where I looked around Northern California to see what districts had that and Piedmont was one of them, so I had [Piedmont] on my back burner. About two years ago, the current school that I am the principal at played Piedmont High School in soccer and I happened to be the administrator to supervise that game. It happened to be a game where it rained, and I was wearing flip flops and shorts, and it was pouring rain. I had to put a garbage bag over me so I wouldn't get wet and I was standing at Witter Field looking up at the school thinking 'Wow, this is really neat.' Earlier this year when Mr. Daniels announced his resignation, I happened to see it on the website that has teacher and administrator jobs on it, and I've been fortunate to be involved in some STEM programs and art and I realized that this something that I wanted to explore so I just felt like it was the right match."
Q: What are you hoping to accomplish as you take on the role as principal?
A: "I'm interested in helping our school community meet [their] goals. I have an interest in STEM and arts, so I like the whole idea of having a STEAM building. I have an interest in athletics, so I would like to continue my role and leadership with that [department]. I would like to bring all these things together.