Seizing the Summer SeaSUN
As the school year winds to a close, students soldier through AP exams, study for finals, and wrap up curriculum in their diverse course selections. With each passing day, the ticking of the classroom clocks grows louder, and as students cross off days in their planners, summer-fueled daydreams solidify into action-packed Junes, Julys, and Augusts.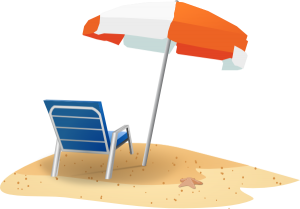 Although work and class can occupy summer hours, students may also choose to vacation or relax, using summer as a break from the strain of the school year. According to a 2013 Stage of Life survey, 59 percent of teens vacation with their parents over the summer.
Sophomore Avni Wadhwani plans to spend her summer traveling to India to visit family. She said that she enjoys the atmosphere and culture of the different environment.
"We're probably going to go shopping, eat some good food," Wadhwani said. "They have really good Chinese food in India."
Sophomore Ava Bogart will also travel, returning to her previous hometown of Washington D.C. to catch up with friends.
Travel for students such as junior Natasha Yskamp Long also presents opportunities to enjoy non-academic extracurriculars. Long is currently training for a European biking trip, and will spend her summer traversing the Swiss Alps, from Amsterdam to Barcelona.
"When deciding what to do this summer, I thought to myself, what do I enjoy?" Long said. "And I enjoy biking so that's my plan."
Sophomore Trent Settlemier will follow Long's example, spending his vacation at a Switzerland summer camp. Settlemier said that the freedom the camp allows its participants will enhance his summer experience.
"It's a learning course, it's adventure," Settlemier said. "There are ropes courses and team building."
One high school summer holds particular importance: to mark the end of their high school career, graduating seniors often choose to engage in the tradition of a senior trip over their summer, travelling with high school friends.
Senior Krysia Olszewska will travel in Italy for three months accompanied by senior Lea Rygg. They will visit Italian cities Pisa, Rome, and Perugia, Olszewska said.
"We are planning to just go around the whole country," Olszewska said.
London, Paris, Strasbourg, Munich, Prague, Budapest, Berlin, Amsterdam, and Brussels number among the destinations for seniors Elizabeth Langer and Emily Phillips in their five week senior trip, Langer said.
Langer said that the summer after senior year marks the last leg of high school, so student values shift. She said that this may explain the phenomenon of senior trips.
"After this I'm going to be in a different place, I'm going to have new friends," Langer said.
Instead of filling their summers with travel and relaxation, students may take on summer internships for the sake of job experience. Langer said a student's summer activity choice depends on how they prefer to use their time. Her point is corroborated by the 2013 Stage of Life Survey, which states that 56.2 percent of high schoolers choose not to take summer jobs.
Settlemier said that he prefers to use summer as a break from academics, and Long agreed.
"Personally, I don't want to do school during the summer because I'm in school for the rest of the time," Long said.
Wadhwani said that a range of activities, both academic and nonacademic, presents an ideal summer schedule.
"I think it's good to have at least one academic thing," Wadhwani said. "But for me summer is more about relaxing."
Although she agrees that a mix of activities allows for a constructive summer, Bogart said that students should ensure that they allow time to unwind.
"Summer for some people is a time to decompress and get away from work and school," Bogart said.
Independent college advisor Anne Fuller said that students today must balance relaxation with resume-building over breaks.
"Always have fun," Fuller said. "But along with that fun, it's important to sort of keep your eye on what's ahead."
Fuller said that the need to plan for a student's future can end childhood naivete quickly.
"The sad truth for you guys is, I hate to say it, a lot of times your fun has been robbed," Fuller said.