Students and staff seek positive steps forward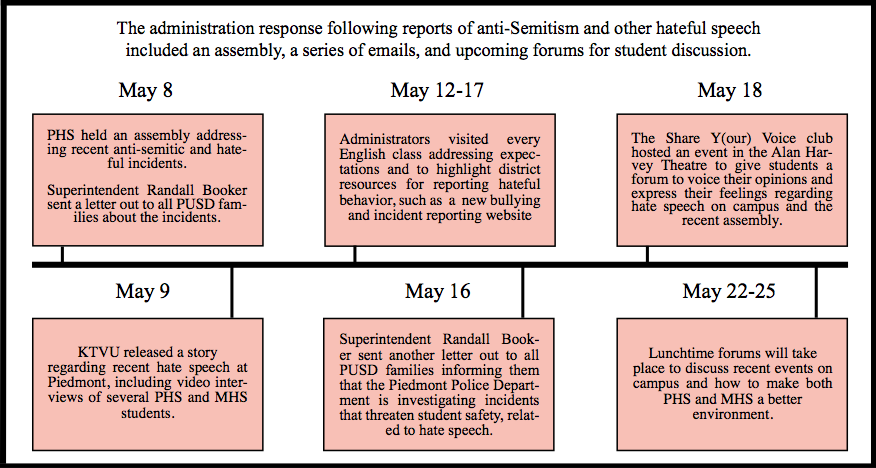 In response to the May 8 assembly addressing the anti-semitic behavior and hateful aftermath, the Share Y(our) Voice club hosted an event in the Alan Harvey Theatre to allow any students to share their opinions regarding recent incidents.
"We really wanted to create a place where people could be completely candid and honest and say what they want to say," said Share Y(our) Voice co leader senior Hanna Marcus.
The event was helpful for students who wanted to speak as well as those who wanted to enrich their perspective, Marcus said.
Junior Micah Bloom spoke at the event, reading a poem his friend wrote about anti-Semitism and said that the event made it clear that everyone's opinions are valid.
"It was important to hear an insight into how other people feel," Bloom said. "This gave me insight to what someone who may be in a completely different social circle is thinking. That is very important because it's all about diversity of opinion."
The part of the poem that was the most meaningful for Bloom was the final line that reads "Shema Yisrael".
"That's a very powerful call to action and it's also what we need here," Bloom said. "Let's work together to create a community that sets us up to not have this going on."
Senior Amalia Roy also spoke at the event about the reasons why certain belittling jokes can be very offensive.
"The key is for people on both sides to not get defensive when having these conversations," Roy said.
Marcus said that in future years the Share Y(our) Voice club wants to partner with Voice Cooperative and the service learning program because they each overlap in purpose and goals.
"Share Y(our) Voice has so much potential because at Piedmont what we are trying to do is teach the students how to be empathetic, be a good person, how to listen to others and how to respect each other," Marcus said. "Each person, individually, has to take a stand for themselves. If you just lead by example, that will make a bigger effect than you know."
Reactions to the assembly and efforts to promote change have also come in the classroom setting, as both the culinary arts class and the AP art class have begun to address the issues through food and artwork.
"We [AP art students] really felt like we wanted to do something and definitely incorporate some of our artistic abilities to do something," said AP art student senior Anna Schacker.
All AP art students do a service learning project after the AP submissions, however only a small group of students in the class are addressing the assembly through their project. The group of students, including Schaker, are making buttons that share the theme of empathy and hope to distribute to the student body in the coming weeks, Schacker said.
"[All the buttons] have the theme of empathy so we have three different designs," Schacker said. "We wanted to target three specific issues; we wanted to target race discrimination, gender and sexuality discrimination, and then religion."
The theme of spreading awareness through creation continued in the culinary arts class last week. Director of Nutrition and Executive Chef M'Lisa Kelley was inspired to make "peace cookies" in her classes and selling them at food service after remembering similar peace cookies being baked by chef Dorie Greenspan, Kelley said.
"The idea for me was to infuse all these different colors into the cookies to represent all of us — how different we all are but that we are all the same," Kelley said.
Kelley said that while the peace cookies are a small gesture of positivity, the energy ripples out like a stone being dropped in water.
"One person, one class, one community can make a difference in the world because the effect ripples out," Kelley said.
In addition to the short term efforts, to create long term plans combating issues surrounding discrimination at PHS and MHS, Director of Curriculum and Instruction and Title IX coordinator Dr. Cheryl Wozniak has been working in partnership with the administration.
"I have reached out to an organization called Teaching Tolerance and the Museum of Tolerance in Los Angeles that offers a customized professional development for staff," Wozniak said.
Furthermore, the English department requested a training on new curriculum called Perspectives on a Diverse America, Wozniak said.
"Our number one LCAP (Local Control and Accountability) goal is that all students feel physically safe, emotionally cared for and included in their environment," Wozniak said. Wozniak said she wanted to encourage students to give feedback so that the administration can process student ideas over the summer.
"If we want to be inclusive, then we have to think of ways to reach out and include everyone, not just those who feel comfortable speaking out and sharing their opinions," Wozniak said.