Cold hard cash. Every teenager's dream. However, teenagers who work in the summer find that they aren't just boosting the numbers in their bank account, but learning so much more about themselves and the working world as well.
Junior Lane Bentley has experience with manual labor, and is excited to continue doing it this summer.
"I like to make money," Bentley said. "I feel like internships can give you work experience, but having an actual job is all about making your own money."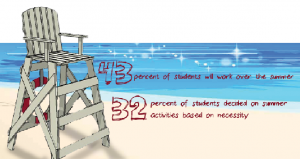 Bentley will be working at his family's orchard in Modesto.
"I've done odds and ends jobs before, like if my neighbors need yard work done, things like that," Bentley said. "But this is the first summer where I will spend majority of my time working."
Piedmont students can also be spotted spending their summers lifeguarding or playing with kids at Piedmont Recreation Department Camps. Junior Shannon Murphy is one of those students.
"I'm working as a C.I.T. this summer at the Rec. Department," Murphy said. "I love my job because I love little kids and seeing them grow as people."
Although many will be working 'classic' summer jobs, such as lifeguarding and babysitting, others are taking on paid and unpaid internships, and experiencing the career-based working world.
"I have a paid internship at Mynd, which is a real estate management company. They are a new start-up in Oakland, and I will be working with their inbound marketing team," junior Anna Goldberg said. "I'm excited to work in a professional atmosphere with adults."
Goldberg has had other jobs in the past, such as teaching swim lessons at the Claremont Country Club and being a counselor at camps, but this is her first taste of the real working world.
"You have to start somewhere, you can't just graduate college and expect to have a job immediately. Even if it's a minimum wage job it's a good thing to learn," Goldberg said.
At a time when college seems more of a reality than a distant future, getting a job or a summer internship is important for the future, independent college advisor Anne Fuller said.   
"The simple fact that it's become much more competitive these days than when I went into college, those sorts of things are helpful to have a gameplan to know where you're headed and what you want to do," Fuller said.
Fuller said that paid or unpaid experience is vital for certain fields of work.
"If I want to become a doctor or an engineer, I don't have to have it all figured out, but I have to be doing something somewhat productive," Fuller said.
"I love working," junior Riley Francis said. "It feels very rewarding to be paid for the work you're doing, and it's training you for the real world. It's also great to put on your resume or college applications."
Francis is working at Maddie's Fund this summer, a non-profit animal welfare organization. According to a Stage of Life survey, 74.9 percent of students will volunteer this summer.
"I've volunteered there since freshman year, but this is the first time I'm actually getting paid for it," Francis said.
Senior Alisha Lewis has been lifeguarding since last summer. Although she appreciates the money and responsibility that comes with the job, she said that it's not always fun and games.
"I sit in the hot sun for four hours, I get weird tan lines, and kids don't listen to me, so I would call it a bit of a chore," Lewis said.
Seniors Gracie Petty and Halley Wolin are also working as lifeguards this summer, and said that they have learned to appreciate their hard work paying off.
"It's taught me a lot about working for your money, and sometimes you're going to work with difficult people, and you need to change your attitude to fit that," Petty said. "I've learned to be more mature and hold my own."
Wolin said that she notices that working affects how she treats others.
"It's good to learn to work with people and to see how people are treated, you think more about how you treat other minimum-wage workers," Wolin said.
Although working has its ups and downs, students are excited to gain more work experience, Bentley said.
"I'm looking forward to learning what the true value of a dollar is," Bentley said.