Willats plans for year long trip across Europe
From the poverty ridden streets of India to the far reaching horizons of the Great Wall of China, science teacher Andy Willats has touched nearly every corner of the world, by traveling to over 60 countries. Willats plans to confront an unexplored aspect of travel next year, by caravanning through Europe with his wife, math teacher Auban Willats, and two daughters, ages 8 and 11.
"The plans are a little fluid now, but the general plan is to let our girls realize that there are other cultures out there, especially growing up in Piedmont, which can be a bit homogenous," Willats said.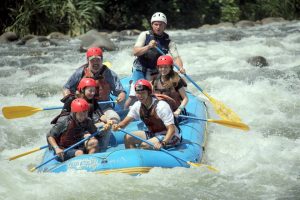 Willats said that his travel experiences gave him the desire to travel with his family.
"I have done a lot of traveling myself, and found it to be very eye-opening and impactful to my worldview," Willats said.
Willats said he has decided to give his girls a similar experience, since the timing worked for him to take a leave of absence for a year.
"My wife is resigning, and my older daughter is going into the year before middle school, where the academics become a little more rigorous," Willats said. "The timing just really worked out for my family."
Even though his kids will miss one year of school, they will experience some of the history and science they would learn in person, Willats said.
"Seeing Roman ruins and the places where emperors were walking will help make their learning more concrete later," Willats said.
The educational opportunities continue into cultural knowledge as well.
"So much of western culture derives from Western Europe," Willats said. "I won't expect my girls to appreciate it at this point, but just gaining this exposure will help them understand the extent of European influences."
One such European influence prevalent in Willats' life is his family lineage.
"We have family in Denmark, and there's a barn there that goes back to 1699 that was in our family," Willats said. "I'd like to tell them that this is ours, and this is a part of our family."
This desire to display his family roots originated from the cultural variety in where we live, Willats said.
"We have a lot of different cultural backgrounds here, so I think it's important for my kids to understand their cultural backgrounds as well," Willats said.
Cultural diversity is something Willats has been able to experience first hand through his travels.
"The religion in India is everywhere," Willats said. "You are steeped in the culture; the colors and the smells are distinctly indian."
Willats also gained exposure to cultural variety in his travels through Southeast Asia.
"I traveled very close to the ground, so I got around by foot and by bus, and stayed in not so nice hotels," Willats said. " I got a really good sense of those places, and changed how I think about things."
Willats said that his change in mindset relates to his expectations of foreign environments.
"You often go into travel with fears that are often baseless, and there are also fears that are realistic," Willats said. "But there are always surprises and things that you don't expect."
Sharing experiences together through travel is one of the best things you can do, Willats said.
"These experiences open up ideas to you, and open your eyes to things you wouldn't otherwise notice," Willats said.
Not only does travel open you to new things, but also changes the way you see those things, Willats said.
"Eating different foods and seeing different celebrations really gains to your world view," Willats said.
Another impact to Willats''s world view were his travels through poverty ridden areas.
"Seeing poverty was hard, but it was also an opportunity for personal growth," Willats said.
Willats advocates others to travel and explore various sectors of the wide variety the world has to offer.
"Traveling is one of the most impactful things you can have," Willats said.