Zhu rewarded with a win and a surprise visit
Healthcare. Russia. FBI. Amidst all the discussion about the latest news and legislation, it is easy for  Congress to forget about what their constituents want. However, lining one hall in the U.S. Capitol are 435 paintings, each one a reminder o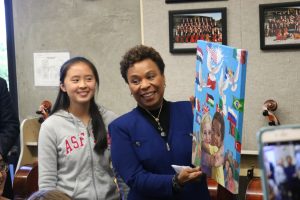 f the citizens that live beyond the congressional walls.
The Congressional Art Competition is an annual nationwide visual arts contest for high school students. Each congressional district chooses one work to be displayed in the halls of the U.S. Capitol for one year.
"Often we forget about art in politics, and I think it's so important that elected officials encourage participation in the arts," District 13 congresswoman Barbara Lee said.
On May 12, Lee visited PHS to congratulate and surprise this year's District 13 winner of the Congressional Art Competition, junior Edwyna Zhu.
"It was the best surprise I've had in a long time," Zhu said.
Zhu entered her painting called "Glory" which conveys a message of the importance of unity. Zhu had no idea her painting won until Lee surprised her with the announcement during Zhu's fourth period class.
"[The competition] is a really good platform to project any message, and I think it is important to promote unity," Zhu said. "I just saw it as a unique way to share my voice."
According to the U.S. House of Representatives website, the art competition began in 1982. Lee said that the competition is still important in today's political climate because of the national administration's attempts to decrease the national endowment for the arts.
"Our musicians and our artists are really providing the spirit that this country needs, that our district needs, to keep us moving forward and to make sure that the world is a peaceful place," Lee said. "The creative spirit has to be kept alive."
Agreeing with Lee, visual arts teacher Gillian Bailey said that lining the halls of the Capitol with student art is a constant reminder to representatives about the importance of art in society.
"It's a reminder that art is important to youth as expression to the people who are representing us in Congress," Bailey said.
Lee said that she has seen this firsthand. When Congress members walk through the area in the Capitol where the competition winning artwork is displayed, it settles them down, Lee said.
"[The art hangs] in the area where we go from our offices to the Capitol," Lee said. "Usually we are dealing with a lot of heavy stuff such as how to stop budget cuts in the arts or how to keep us from going to war."
A panel of judges decide the winning art piece for each district and each year, the winners of the contest receive tickets to Washington D.C. for an awards ceremony, according to the U.S. House of Representatives website.
Bailey said that she encourages all her students to enter both the Congressional Art Competition, a tradition for PHS students that goes beyond Bailey's tenure, and other art contests in order for her students to not view art as just an assignment.
  "Not everybody thinks about art as existing beyond this classroom, but art is really an extension of yourself and your experience within the larger world," Bailey said. "Having art be acknowledged or putting it out there for other people to see, even if somebody doesn't win, it's on Facebook. It's gotten a different audience and venue."
In addition to the winning art piece decided by a panel of judges being hung in the Capitol, the art piece with the most likes on Facebook will be hung up in Lee's local office.
"The voting is done on Facebook so it's initially just the amount of likes you get," junior Walker Payne said. "But it's important for me to know that so I can learn how to make my art more appealing to the general population."