CSSSA provides both social and artistic opportunities
"Life changing is a phrase that's thrown around a lot but I feel in this case it's pretty accurate," said junior Rachel Elliott of her experience at the California State Summer School for the Arts. The preprofessional program, abbreviated CSSSA, affords teens from across the country the opportunity to live on the California Institute of the Arts (CalArts) campus for the duration of the 4 week curriculum, according to the CSSSA website.
Students may focus on Animation, Visual Arts, Film, Theater, Dance, Creative Writing, or Music. Each department boasts a staff of professionals in its respective artistic field, many of whom also instruct at the collegiate level, according to the CSSSA website.
Elliott attended CSSSA as a visual artist, taking classes six days a week from 9 a.m. to 9 p.m. The visual arts classes included open studios, speeches from curators and artists, and instruction in an additional focus, Elliott's being printmaking, she said.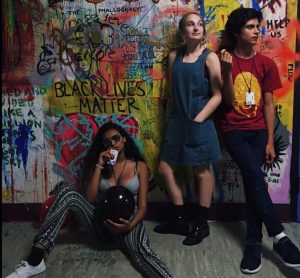 "The best part of the program was the teachers. They cared an incredible amount," Elliott said. "Even though I was only there for a month, I feel like I learned years worth of technical skill."
As part of the theater department, junior Shayla Lawler said that CSSSA presents a more physical approach to acting, which the students worked on in small studio groups.
"It was a very different way to look at theater," Lawler said. "That was great, to have a new perspective."
In addition to Elliott and Lawler, Piedmont students senior Nathan Harrison-Bokor, senior Walker Payne, and junior Anna Fehr attended this summer's program. Harrison-Bokor and Payne joined Elliott in studying Visual Arts, and Fehr went for Creative Writing.
On Sundays, the day off from classes, students could choose to go on field trips such as to the Getty Museum or Disneyland, Elliott said.
"I had an incredible time," Elliott said.
Lawler said that the community of students that formed was a highlight of the program.
"A lot of theater camps I've gone to, people are really competitive, but at CSSSA, everyone was really supportive of each other," Lawler said. "Everyone was really loving."
The community at CSSSA continues to be a main reason that English teacher Jody Weverka recommends the program to students.
"My daughter went to CSSSA, and it was transformative for her because they were her people," Weverka said. "I think everyone looks for that in high school."
An added benefit of the program is that it removes students from the small Piedmont community and exposes them to new people and ideas, Elliott said.
The connections made at CSSA may also double as future career connections, Elliott said.
"If you're thinking of going into an art profession, it's exceedingly valuable because you'll be making friends with people who will be going into the field," Elliott said.
CSSSA is extremely selective, accepting only one-third of all applicants. The application deadline is Feb. 28, according to the CSSSA website.
Elliott said that despite the program's focus on art, the lessons are universally valuable.
"I have no intention of my career being arts," Elliott said. "Whether you're planning on going into the industry or not, art is not only a way of self expression, but a way to build your communication, to build your voice, to get the critical thinking
skills that you can't necessarily get from a STEM subject."