Fierro brings new ideas as MHS principal
From the tin of granola bars on her side table to the princess bandaids in her bottom drawer to the colorful children's paintings that adorn her walls, new MHS principal Shannon Fierro has already personalized her office. When Fierro is not greeting students in the halls, she sits near the door in her office, her desk pushed against the wall to allow her to share the space in the center of the room with any student who stops by.
"It didn't work for me to have the desk in the way," Fierro said. "This allows me to be a little bit closer to people."
Four years ago when Fierro moved to Piedmont, she visited PHS and MHS. Fierro said that after touring MHS, she knew she hoped to one day work there.
"I told my husband, 'If the job to be principal at Millennium High School ever opens up, that's the job I want,'" Fierro said. "And then it did, so there you go!"
In terms of first impressions, Fierro said she especially appreciates the diversity of the student body.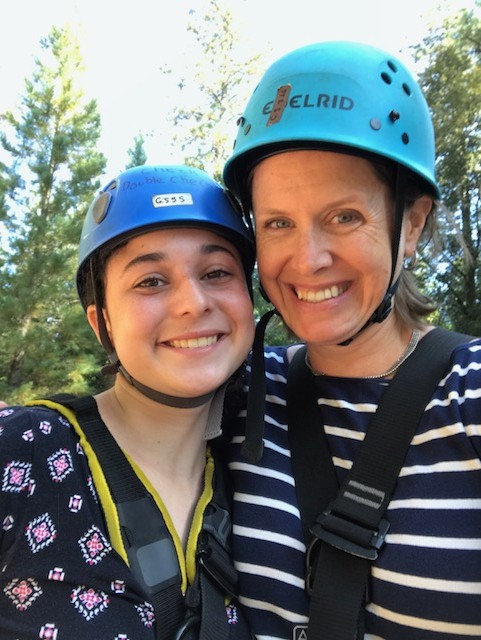 "To be in a school that is a wonderful mix of students from our community and students who come into Piedmont from other communities makes for a really rich learning environment with a lot of diversity of background and perspective," Fierro said. "It's a privilege to be working with the students at Millennium High School."
At the start of her career, Fierro received a Master's degree in French Studies from NYU, a Master's in International Education from Harvard, and a Master's from Pace University in Educational Administration. She taught French, Spanish, and ESL (English as a Second Language) before becoming Vice Principal of a high school in the Bronx.
Fierro, who was raised in Walnut Creek, moved back to the Bay Area to run a formative assessment program for San Francisco Unified School District. She taught overseas, acted as an instructional coach for Oakland public schools, and then became Vice Principal at Berkeley High School before accepting the job of principal of MHS and principal of the Piedmont Adult School.
"I think that there's knowledge from other places that I can bring," Fierro said. "In talking to some of the teachers, already, I know that they're excited to try some new things."
One of the new programs Fierro hopes to implement involves a new look at discipline. Called restorative justice, the theory focuses on restoring harm rather than enacting only punitive measures, Fierro said. She said that the response to Anti-Semitic behavior and hate speech during the last school year took a restorative approach to discipline.
"Restorative justice is something that I've had the opportunity to do in other districts," Fierro said. "Millennium already has very intentional community building, so there are already things happening here that are in line with the restorative justice approach."
One of Fierro's other goals is to connect and get to know the student body. To begin this initiative, she ate lunch with each grade level at the start of the school year.
"I really want to make sure I know each kid at Millennium and understand what their goals are, so I can better support them," Fierro said.
She also plans to spend a few hours a week observing classes, in a collaborative effort with PHS principal Adam Littlefield, and possibly work in some Spanish classes as a guest lecturer.
"[PHS Principal Adam Littlefield] and I are going to do class observations at Millennium and at Piedmont High, together, so that we can learn about what the student experience is like in the different classrooms at both high schools," Fierro said.
Fierro wants to ensure that the community at MHS remains supportive and fosters individuality and acceptance in the student body, she said.
"I think one of the big goals that I have is that this is a strong, supportive, and tight-knit community, so that all students are accepted and feel that they can bring every part of their personality and identity," Fierro said.
On the recent Camp Augusta retreat, Fierro accompanied the students to the throwing range, the lake, and even tried out the giant swing, MHS sophomore Isabelle Ziegler said.
"She was totally screaming and having fun," Ziegler said.
Ziegler said that she believes Fierro will make MHS an even better place, and hopes Fierro will do that by working with the district to admit more of the students who apply.
MHS sophomore Naimah Thompson said she was struck by how invested Fierro was in student life.
"She's fit to be a principal here," Thompson said.
Fierro's attitude for the coming year can be summed up in 11 words.
"I am loving it, I am in exactly the right place," Fierro said.