History made as Settlemier suits up for varsity
Peanut butter and celery, caramel and apples, a freshman on varsity football. At first look these combinations may seem like a foreign concept, but like pineapple on pizza they have found a way to work out well.
Freshman Briggs Settlemier is making history as the first freshman to start on varsity to open the season since Head Coach James Holan has been coaching at Piedmont.
Settlemier, who plays right guard on the offensive line, is improving every week and making his presence on the varsity team a welcome one, senior quarterback and captain Jacob Prager said.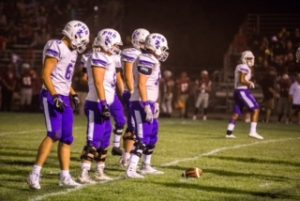 Settlemier started playing tackle football in sixth grade as part of Pop Warner, a nationwide youth football program, in Berkeley for two years. He continued his playing career at his former boarding school, Cardigan Mountain school, in New Hampshire during his eighth grade season, Settlemier said.
"He has been playing Pop Warner for a long time, he has a lot of experience, but it is a huge jump from Pop Warner to Varsity without playing any JV in between," Prager said.
While playing experience prior to high school can be valuable, Settlemier's physical maturity and football IQ are what put him so far ahead of fellow freshman, rather than simply having more experience, Holan said.
"Right off the bat [Settlemier has] an advantage because of [his] size, but he seems to really understand the game and technique," senior lineman and captain Lane Bentley said.
Everyone on the team, from the players to the coaches, has been very supportive of Settlemier, offering him tips and calming him down whenever he becomes frustrated. His fellow offensive lineman have been an especially helpful resource for him, Settlemier said.
"Our starting five [offensive lineman] are probably the closest guys on the team; we are all really good friends and we are all friendly with each other," Settlemier said. "Having that communication and that bond is really important."
Beyond enjoying each other as people, the offensive lineman must be in sync in order to execute each play properly, Bentley said.
"We are hitting every play and if we are not on the same page of who to block, then that ruins the whole play," Bentley said.
Prager said that the offensive line as a unit, in addition to Briggs as an individual, is vital to allowing the offense to be able to run.
"Our offensive line dictates how well we do," Prager said. "I cannot do anything if they do not play well and we have no running game if they do not do well. Briggs is twenty percent of our [offensive line], so we rely on him a lot."
Settlemier said his personal goal is to not allow a sack all season long.
As for the team's overarching goals, Bentley said that he feels like NCS is up for the taking and that Piedmont could get it.
"We work extremely hard as a whole team to be in a position to compete," Holan said. "We have seniors on this team that have worked for four years straight for this moment. I'm really proud of this group so far."