Students win big in the East Bay Monthly competition
Neatly tucked into the back of a shelf in a corner of art teacher Gillian Bailey's office lie several issues of the East Bay Monthly magazine, each featuring PHS students' winning art pieces from the Monthly's annual student art contest. This year, PHS dominated the contest once again: recent PHS graduates Kate Abel and Jakob Armstrong split first and second place, while junior Natalie Jeng came in third. PHS students also received four out of six total honorable mentions.
"We've been doing the contest for a while," Bailey said. "The art teacher before me, Helen Brainerd, had students participate in it, so we have a long history of having the covers."
Though PHS often places well in the art contest, sweeping the top three titles remains a significant accomplishment, as schools from all over the East Bay participate, Bailey said.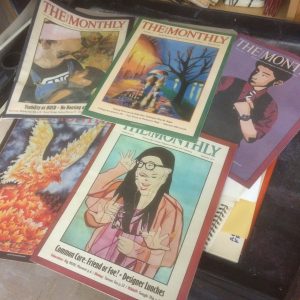 "It is not an uncommon thing, but that's not to diminish having a cover in second or third place," Bailey said.
Bailey attributed her students' repeated success to the originality of their artwork.
"The reason the judges have historically liked the work that we present is that it's not just image replication," Bailey said. "Our paintings also show the artist's personality and voice."
Jeng, the third place winner, said she first heard about the contest after her father was featured on one of the Monthly's covers. She remembers submitting 12 entries in an effort to win. In the end, her painting of a bowl of Lucky Charms cereal clinched third place.
"I like drawing things that I'm passionate about," Jeng said. "And I'm passionate about lucky charms. The colors were a lot of fun."
Jeng said she hopes to take first or second place in next year's art competition.
"Now, thinking about it, I have a lot more room to grow," Jeng said.
Junior Joy Zhou earned one of the four PHS honorable mentions with a charcoal portrait of her mom.
"We had to do a portrait of someone," Zhou said. "So I just took a picture of my mom at a weird angle because that would make the picture more interesting."
Zhou said Bailey was absent when she worked on the piece, so she had to complete it without assistance.
"I mostly did it on my own, and it was my first time working with charcoal too," Zhou said.
Before the contest, Bailey said she talked to the students about what types of art pieces would look good on the cover of a publication.
Bailey said art contests such as the Monthly's are important because they show student art being appreciated outside of the classroom.
"It's just really amazing to see your work in print," Bailey said. "A lot of times outside of the classroom and outside of the art show, not a lot of people get to see the students' art."
Bailey said she is extremely proud of her students.
"Just because somebody's a high school student doesn't mean that they can't be making exceptional artwork," Bailey said.