Teitelbaum shoots for the 'Zenith' with new robotics team
Student engineers spill ideas for the optimal robot onto a whiteboard. Their two dimensional visualizations come to life, step by step, as the screws join sections, the gears grind, and finally the controller sends commands. This year, 12 more PHS students will be meeting every week to innovate, program, and build.
In response to a surge in applicants and limited space on the existing Scotbotics robotics team, senior Walter Teitelbaum created another robotics team called Zenith. Teitelbaum said that Zenith, meaning when something is the most powerful or successful, characterizes what his team strives for in their love for competition and collaboration.
"This year I wanted to branch off and take more people into robotics," Teitelbaum said. "I knew there were people who are good at engineering and robotics and wanted to be on a team but didn't have the chance."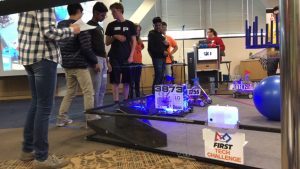 President of Scotbotics senior Anders Bjork said that Scotbotics had 12 applicants, but only two spots opened this year to complete the 10-person team. The application consisted of a survey asking why the student was interested and what past experience with robotics or engineering they had, Bjork said.
"We had a meeting, realized we had way too many people, and felt that it was wrong to reject 10 people, so luckily [Teitelbaum] started a new team," Bjork said. "All the people were well qualified, which was the biggest issue."
Bjork said more word of mouth publicity may have caused the increased interest, but also required changes to be made to accommodate more students.
Teitelbaum, who has been involved with Scotbotics since 8th grade, said he wanted to bring the team dynamic of Scotbotics to Zenith.
"I was really enthusiastic about the team relationships we had because it was all student-run," Teitelbaum said. "By making a new student-run team, we can continue that."
However, Teitelbaum said that small teams have benefits because no more than two or three people can work on a 18 by 18 by 18 inch robot at a time. Zenith currently has 12 members, so to involve the whole team, Teitelbaum said they could split into groups: a programming team, a design team, a building team, and possibly a leadership team.
"I wanted to reach out to more people because even if they won't spend as much time on the robot, they will still be getting a chance to do so, and it's good to have people interested," Teitelbaum said.
Freshman Sebastien Combes, who participated in the middle school team, the Pioneers, and is now part of Zenith, said he looks forward to expanding the robotics community by spreading the word to get more students interested.
After establishing a new team, Teitelbaum had to figure out where the team could work and how to pay for materials to build the robot. The team currently practices in Combes' basement. Private donations currently help fund Zenith, but in the future, Teitelbaum said he hopes the team will be affiliated with the school, which requires the district to provide a workspace, funding for materials, and insurance. Teitelbaum said that the process is tedious, which is why Scotbotics is not affiliated with the school. However, with the money going into rebuilding the school, as a result of the H1 bond, Zenith has potential to be school-affiliated.
"For now, we found someone in the Piedmont community who is really enthusiastic about donating to help STEM at the schools," Teitelbaum said. "We probably couldn't do it without her."
After acquiring funding and building the robot throughout the year, the team will bring their creation to the competition. Teitelbaum said every year, the league releases a set of challenges and teams design a robot to complete them. Every round a team is placed with an ally and the two robots have to collaborate to score the most points.
"I find that the most exciting part is when you go to the competition and meet everyone: your teammates and your enemies," Combes said. "It's just fun to be with other robot makers."
Senior Tiffany Foo, a Zenith team member, said she enjoys the collaborative aspect of robotics.
"You get to meet people from other schools at competitions, and you can combine your ideas and skills together," Foo said.
Because only a couple Zenith members previously participated in robotics challenges, Teitelbaum said this year will be a learning experience, but he also wants the team to be competitive.
"We have our space, our money, we are registered in the program, and we are excited," Teitelbaum said.