Architects reveal design for new high school
Almost a year ago, PUSD authorized a $66 million bond to be poured into Piedmont schools, and after much planning, HKIT Architects released the final designs on Sept. 27. The district is renovating the theatre, and building a 3-story STEAM building that will sit in the school's entrance.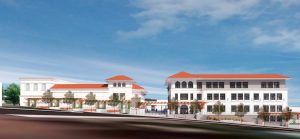 One of the main goals of the reconstruction is to utilize zero net energy utilities, such as teaching tool PVs, and energy-efficient shades. Another change, based on the design plans, alters the floor plan and elevates the buildings. There have not been multiple stories in PHS buildings in decades, besides the stairs heading down from 30s building classrooms to the library.
In an email to students and parents, Superintendent Randall Booker stressed the importance of keeping the campus' history, and create a modern school to be a tool for "energy production, use, and conservation." Since April 2017, the district has held multiple community meetings, for individuals to view the multiple plans for the school, and share input and ideas. There was also a feedback form online for people who could not attend the community meetings to share their thoughts. Booker reports that hundreds of students, parents, and residents voiced their thoughts between the meetings and online forms.
Ground will be breaking during the summer of 2018, and students of PHS will be around lots of construction for years to come. But, based on the designs, generations of students will be appreciating the renovated, beautiful campus. After months of input, and endless community meetings, a final decision has been reached, and the plans are open for anyone to view at measureh1.org.