Beckner molds creativity, humor into teaching
"I remember working with mud. Just sitting in the side yard playing with mud," new ceramics teacher Katherine Beckner said, with a small smile on her face and a bright yellow apron covering her front.
Mud was the main material with which she constructed her fourth grade California mission project, she said. This is one of many examples of how, throughout her childhood, she always enjoyed being crafty and doing things with her hands, Beckner said.
However, Beckner did not realize her passion for ceramics until she took a class later in high school.
"I was a drama geek, but towards the end of high school I took a ceramics class," Beckner said with a tiny chuckle. "I was terrible at it, but I really loved the process of creating art and so I just kept working at it."
Beckner studied ceramics at California State Chico, she said, where she learned a plethora of styles from many different teachers.
"I still can learn more. I am a forever student," Beckner said.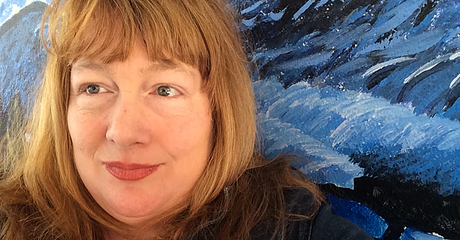 When Beckner first graduated she took an internship as a banker, she said, but determined that it was not the career she wanted to pursue.
"I spent my entire day counting down the minutes until the next break and when I was off work," Beckner said. "I believe that if you're going to do something your entire life you should be passionate about it and enjoy it because you only live once. So I pursued art and ceramics. I love teaching, being creative, working with clay, and I never look at the clock."
Beckner has been teaching for sixteen years and thinks art is the most important class, she said.
On the front of her desk there is a simple black and white sticker with the words, "Fear No Art," in bold lettering. Following this motto, Beckner hopes that her students develop the trait of grit, she said.
"I think grit is the most important concept that kids can learn in ceramics," Beckner said, "When something breaks what are you going to do? Are you going to fix it? Are you going to start over? Are you going to cry and give up? If it's not salvageable move on, try again."
Beckner's goal is that her students continue to try even if they are frustrated, and that they are not afraid of failure. She wants her students to know that they can ask her for help at any time, she said.
"She really cares about how you do in the class and that you are having fun," ceramics student sophomore Hannah Ferguson said.
Beckner believes that everyone should be visually literate in order to understand the historical and cultural significance of art. When people are visually literate it allows them to understand the messages of images that are logos or ads in order to be more responsible consumers, she said. In addition, art has and can increase people's understanding of different cultures, Beckner said.
"We live in a world that's getting smaller and smaller," Beckner said, "It is important for students to appreciate cultures around the world instead of just at their school, in their city, or in their state; for them to think more globally."
In addition to having a deep understanding of the technique of her craft, Beckner has a great sense of humor, art teacher Gillian Bailey said.
"She is funny," Bailey said, "I really appreciate it because sometimes as a teacher you might have a long challenging day. It's nice to be able to laugh."
Now Beckner's bright yellow, fruit covered apron contains a faint layer of clay– without any traces of mud.