'Decide' founders teach decision making skills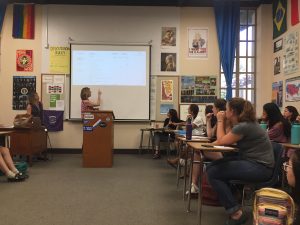 DP or family game night? Dream school or debt free? This dress or that dress?
Students poured into room 16 on Sep. 27 to learn the tools to make smart, well-informed decisions. With more than 40 students packed into the room, many sat on the floor attentively watching and learning to feel confident in their decisions.
At Voice Cooperative's, or VoCo's, first event of the school year, founders of the company "Decide," Maria Carson Breber and KeriAnne Hohener introduced students to their decision making process. Breber said that she and Hohener started their company a little over a year ago, and have been helping and guiding clients to select their ideal options.
"Our goal is to get people to not fear or feel paralyzed by decisions," Breber said during the presentation.
Breber and Hohener's six step plan involves the participant identifying key factors and then giving each factor a certain point value. The total amount of points has to equal 100, so the participant must decide which factors are most important to the decision, between the two or three options. Once the points are all added up, and the person sees which option has more, they have a gut check, Breber said.
"The gut check is great because it shows [the participant] how they actually feel," Hohener said. "Once they see which option 'won' they allow themselves to show how they actually feel, whether they like or don't like that option."
Breber and Hohener's presentation showed students the basic format they use in their process.
"Their method for making decisions is really unique and is something that I'd never really thought of," said junior Max Roitblat, a frequent VoCo event attendant. "I would definitely use their system if I had a big decision to make."
The decision making presentation was the first of many VoCo meetings that will occur throughout the year. Co-presidents seniors Maya Guzdar and Genevieve Raushenbush set up events and invite speakers during the school year.
"We're trying to cover topics that aren't discussed as much in Piedmont," Guzdar said.
VoCo was started in 2015 by then seniors Courtney Gao and Grace Sanford. Guzdar and Raushenbush were approached by Gao and Sanford and asked to continue the club, and since 2016 they have supervised the club themselves, Guzdar said.
"We've changed VoCo a little bit," Guzdar said. "When [Gao] and [Sanford] had it two years ago, it was more like performances in smaller classrooms. But since then, [Raushenbush] and I have tried to get speakers that cover topical issues."
VoCo's meetings don't just provide a platform for speakers, they also provide a space for students to interact and connect with those speakers, Guzdar said.
"Going to [VoCo] events are really interesting," Roitblat said. "They bring in a whole variety of different people. I like how their events aren't rushed like Diversity Day at the middle school, but spread out and actually allow you to meet new people and learn new things."