Girls learn about filmmaking through Camp Reel Stories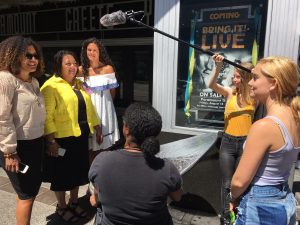 Thirteen percent of writers in the media. Seven percent of directors. Even though they make up about 50 percent of the world's population, women hold fewer roles than men in the filmmaking industry. According to their website, Camp Reel Stories strives to narrow this gender gap by offering a summer program that teaches young women about filmmaking. PHS girls have taken advantage of this opportunity by participating in the camps and joining the student board.
The non-profit, all volunteer run organization holds two, five day "boot camps" or beginner camps, and one week of advanced camp every summer at Oakland School for the Arts. Aged 13 to 19-year-old girls learn to write, shoot, edit, and broadcast short documentary or narrative films. At the end of each session, a film festival broadcasts their creations, said PMS Film and Animation teacher Anne Smith. Smith is also on the the Camp Reel Stories Board of Directors and is a summer film producer.
"In about two days, in terms of the filming and the editing, the films they make are just outstanding," Smith said. "They are so varied, diverse, and reflective of what each of the girls are thinking about."
Camp Reel Stories was started by former Pixar employee Esther Pearl in 2013. Smith said that Pearl was very aware of the underrepresentation of females in the film industry, and wanted to create an organization that would empower young women to explore film and media.
"Our mission is that if females are represented behind the scenes in films, they will be more accurately represented on the screen," Smith said.
By having at least 50 percent of the girls in the camp on scholarship, Smith said that it helps their mission of encouraging diversity in the film industry.
"When girls look at television programs or movies, they do not really see themselves being represented," Smith said. "So Camp Reel Stories wants to support that diversity and give everyone a voice."
Smith said that over 20 girls from PHS have attended Camp Reel Stories because she informs them about it.
"We have been fortunate to have a lot of Piedmont girls," Smith said. "Because I teach film at PMS, and there is no film program at the high school, I have presented this as a possibility for students to do in the summer time."
Due to their desire to become more involved in the program, juniors Clarissa Lam and Jane Simonetti, and freshman Aya Troyer joined the Camp Reel Stories student board, Simonetti said.
"I thought this camp was a lot of fun and I didn't only want to go back in the summer," Troyer said. "I thought that if I was a part of the board, then I could be participating in it the whole year."
Simonetti said that Pearl finds different opportunities for the student board members to participate in throughout the year.
"As a board member, we have meetings once a month and we discuss different ways we can get Camp Reel Stories out to the general public, and how we can advertise it," Simonetti said. "We hold a fundraiser in October, and I am going to be there helping with that."
Other women in the film industry collaborate with the seven high schoolers on the student board. The 30 total board members decide how to use their funding, what they need and how they should alter the camp, Simonetti said.
"[Lam] and [Simonetti] have been really great, and have been quite the spokespeople since being on the student board last year, and continuing this year," Smith said.
To join the student board, Troyer said that girls should attend the camp a few times and possibly become an advanced camper. An email with a form is sent to all campers asking whether they want to join the board, and if so, why.
Because she has attended camp three times, Simonetti said that she has learned a lot about film.
"I learned how to work the certain cameras, how to use audio equipment, and how to direct and write a film," Simonetti said.
Simonetti and other Camp Reel Stories attendees have been able to attend and get their films nominated in film festivals such as New York and Portland, Oregon.
"Going to the festivals and seeing your film on the big screen next to a bunch of other filmmakers is super rewarding," Simonetti said.
Freshman Claire Lichty, who attended a one week session over the summer, said that she gained appreciation for filmmaking because she experienced its difficulty.
"I think the biggest thing is you don't realize how hard something is until you try it," Lichty said. "I always took movies for granted, and now I realize that there is so much work that goes into them. And it is like that with everything."
Simonetti said that she not only learned how to create films, but also gained more applicable skills to everyday life.
"I've learned so much about how to ask for a job," Simonetti said. "I learned more social skills, with documentaries, since you have to reach out to ask people to interview and set up a time. It has made me more comfortable talking with people I might not necessarily know."
Even if the girls who attend the camp do not go into filmmaking as a career, they still gained a greater understanding and appreciation for film creation through their experience, Smith said.
"I think it is really important for them to have the opportunity to tell their stories from a point of view from a female, and become aware of media and the statistics that exist in terms of who is producing the media," Smith said.