Humphry Slocombe Ice Cream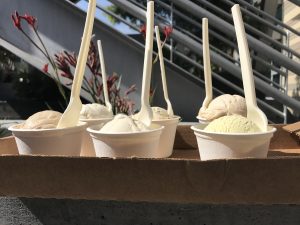 Butterbeer, Persian lime and curry, and secret breakfast are just a few of Humphry Slocombe's signature ice cream flavors. Housed in a shipping container structure, this ice cream shop describes itself as a "bizarre, delicious, frozen universe," which you will see to be true after taste-testing the wide variety of unique flavors. You may not have considered that some of the flavors, like secret breakfast, which consists of bourbon ice cream with scattered cornflakes, could even be made into ice cream. However, don't be shy, because Humphry Slocombe also serves more traditional flavors, such as Malted Milk Chocolate, just with more "umph" as each flavor is rich, sharp, and very sweet.
At the downtown Oakland location, Humphry Slocombe can be found in a courtyard amidst the hustle and bustle of Broadway Avenue and parallels a hipster vibe with a neighboring coffee shop, which is also inside a shipping container. Humphry Slocombe's advertisement of free samples is no lie as the service was friendly and welcoming. The employee excitedly explained the flavors and brought out the sample spoons before he was asked.
Humphry Slocombe's unique name comes from the two main characters of the British 1970's comedy "Are You Being Served?"
Humphry Slocombe offers more than just traditional ice cream. Their menu also includes toppings beyond the classic rainbow sprinkles, such as cornflake crunch, olive oil and sea salt, and marshmallow fluff. If you're feeling more hungry, sundaes, floats, and pies are also offered.
Overall, Humphry Slocombe offers a unique experience with something for everyone (except those who are lactose intolerant) from the butterbeer for Harry Potter fans, to the acquired taste of the Persian lime and curry, to the authenticity of the Blue Bottle Vietnamese coffee flavor. To top it off, the friendly employees and the Oaklandish environment will make the experience worth more than just a scoop of ice cream.