Superintendent Randall Booker responds: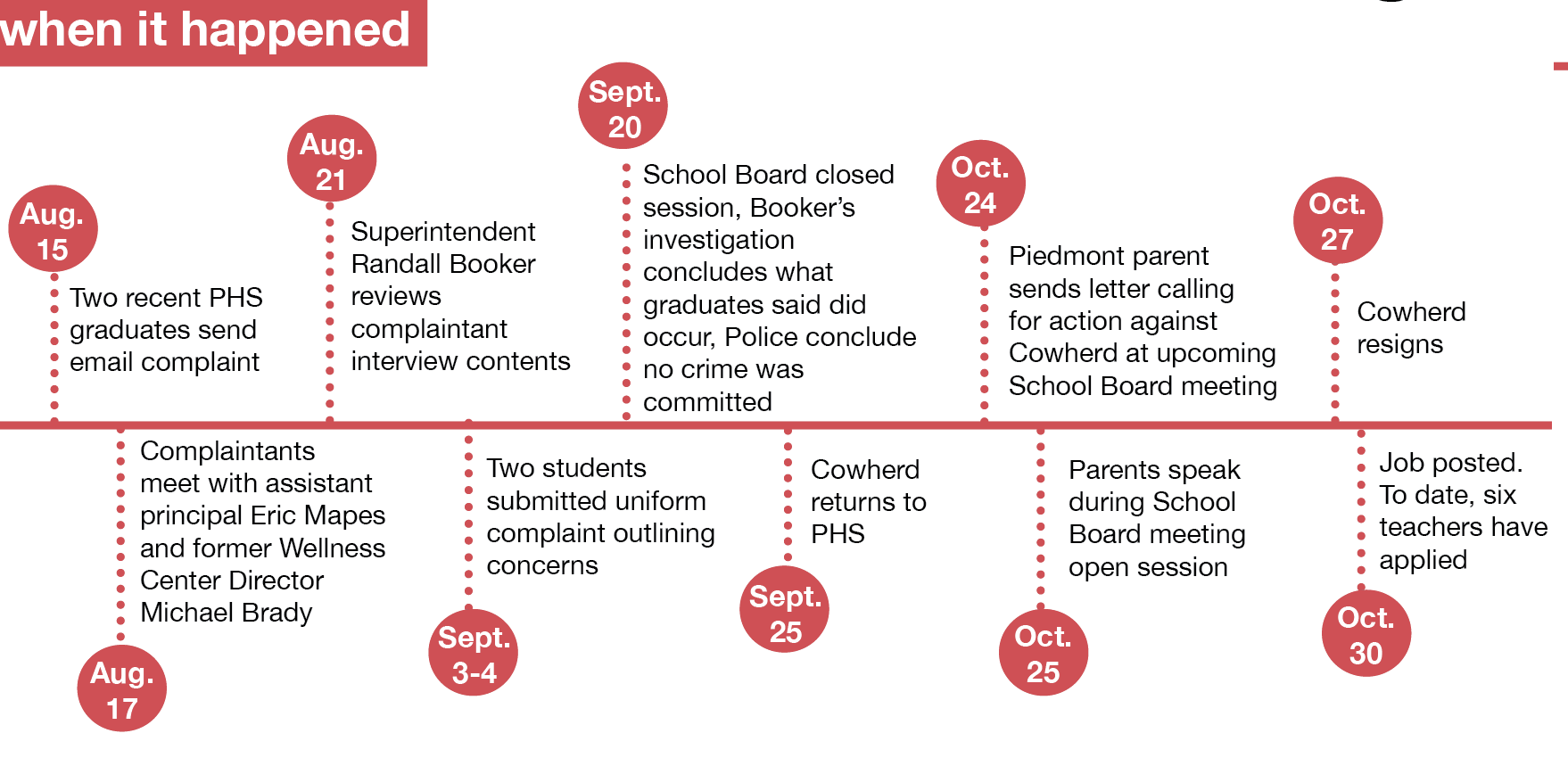 What did the investigation process look like?
"Two recent graduates came forward to connect with Eric Mapes to report their experiences with Cowherd during the Europe Trip last spring. As they were expressing their feelings and what they experienced, Mapes said 'We need to talk about this in an official capacity, I got [principal Adam] Littlefield involved and [Title IX coordinator Cheryl] Wozniak involved.' I also asked Brady to be involved because of his work in the Wellness Center. That is when our investigations started. Then on Sept. 3 and 4, two students submitted a uniform complaint briefly outlining their concerns. I know Wozniak, Brady, and Mapes conducted interviews of a number of the complainants. The actual written complaints were done by two recent graduates, but five came forward as a group. As a part of a uniform complaint, there is due process for the person accused as well, so they get an opportunity to answer the charges or the allegations with their side of the story. Prior to that, based on what was expressed to us and based on the investigation of the five complaints, I decided to put Cowherd on paid administrative leave while our team conducted the investigation. I forwarded the complaints and the information we had at that early stage to the Piedmont Police Department and let them investigate. It took us a couple of weeks to do all of those investigations with Cowherd, with the complainants, with other witnesses, and witnesses that Cowherd asked us to speak to. So at that point, I gathered 'Here are the accusations, here are the investigation findings, what are the outcomes of the investigation, and what do I think based on what is said, what do I think happened?' The investigation told us that what the recent graduates said occurred.
How is the administration ensuring students feel comfortable speaking up?
"Honestly I think that has been happening; the recent graduates coming forward is the product of a cultural shift happening in PHS over a few years, with the awareness of a title IX and the consent assembly, and coming off the heels of the anti semitism last year where administrators were going to talk in classrooms. I think there has been an emphasis on encouraging kids to speak up. We have been trying to create that culture where we want kids to feel comfortable sharing when something doesn't seem right to them. Looking forward, I see that continuing. I don't want to undersell the importance and use of counselors, teachers, administration. All along students have had people there who will listen. They may not have always felt comfortable speaking up, but we have an abundance of avenues where kids can be heard. Whether they choose to speak is another question, but we have a lot of people who are listening."
How is the administration working through challenges in the classrooms?
"I am not going to sugar coat this, an idea of an AP teacher leaving in late October is really challenging. Finding a teacher at this point is not impossible, it's just very challenging. We posted the job on Monday and Littlefield sent a letter to all the families and students of Cowherd's former classes, updating them. We have six applicants already, which is great. Our primary goal is to get a credentialed teacher in the classes; what I do not want to see is a merry-go-round of teachers coming in, so right now we have subs or current teachers in the class. The social studies department and other staff members are working hard to put a curriculum together and I'm not going to pretend that it is the same as what Cowherd was doing, but we want to keep the class moving forward. We recognize that this is very challenging for students, parents, and colleagues."
How does the school talk to teachers about inappropriate behavior? Will this change now?
"It's something we need to talk more formally about. California Commission for Teacher Credentials has some criteria on that so when teachers get their credentials, they are held to that standard. There are some school districts out there that have policies on appropriate use of social media. My interest is looking at whether we as a district can adopt some policies and guidelines for staff on what is smart and appropriate use of social media with students. What is appropriate? We haven't really had those discussions. Should email be the only form of communication and how would that affect student-teacher relationships? We need to develop best practice and policy to help create boundaries for students, teachers, and staff. Another piece is looking at training on using social media with students. Right now education code does not require sexual harassment training of teachers and staff; it requires it every other year for administrators and directors. Should we look to expand that voluntarily? Those are the conversations I am starting to have with staff. There was a culture set up where there were texting relationships. It is bad when the content is inappropriate, but is it bad just in itself? My own feelings are yes."
What happened after the school board meeting on Oct. 25?
Come Thursday [Cowherd] was put back on administrative leave. No new information came up, it was more of everyone needs a break. It was not healthy for students for him to be on campus, it was not healthy for him to be on campus. One of the things, to ask yourselves is, how did you feel about that school board meeting? Was that indicative of the democratic process? Does the district have a process in dealing with complaints and some people didn't get what they wanted from that process, so they showed up at the board meeting. Then the board changed its decision and Cowherd has now resigned, is that the best way to make decisions?