Hogenauer slides from the slopes to the classroom
"June and July man, I started teaching for summers off," MHS Math teacher Arthur Hogenauer said.
Hogenauer said that after graduating from University of Redlands with a philosophy degree, the first thing on his mind was getting a job.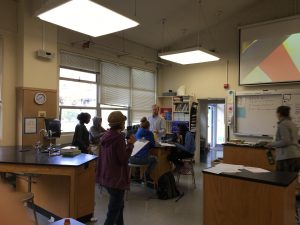 "Right out of college I was so worried about getting a job," Hogenauer said. "I got a job, and I felt like a real adult."
The next move in his life was to get a stable job, get married, get a car, and get a house, but then Hogenauer said he decided he did not want this.
"And then I realized I'm not ready to be an adult yet," Hogenauer said. "So I quit my job and gave my roommate my cat, and gave my other stuff away and moved to Hawaii."
Hogenauer said that he had the idea to move to Hawaii because his college roommate grew up there.
After one year, Hogenauer decided to move back to the mainland of the US to find a new job and at first, he roamed around doing a bunch of different jobs.
"Every time I had enough money, I decided to go on an adventure and either go snowboarding, sailing, or surfing." Hogenauer said.
Hogenauer said he then realized that his resume did not look the best since he would only stay at a job for a little while before going on another adventure, so he decided that he needed to find a stable job.
Hogenauer said that because his father was a professor and his grandfather was a German teacher, he decided to give teaching a shot.
"Then I subbed for a while and dug it," Hogenauer said. "So [then] I became a teacher in Florida."
A few years ago, he taught at Oakland Charter High School. After taking a year off afterward, he decided to get back into teaching and heard great things about Piedmont, Hogenauer said.
After hearing the open math teaching spot at MHS, Hogenauer said he decided to try it out.
"When I found out that it was an alternative school with a different kind of mindset and different kind of student body, I thought that was right up my alley so I should give that a shot," Hogenauer said.
One of Hogenauer's students, senior William Robison, said that he really likes Hogenauer's style, since he has a ton of energy and a great attitude.
"Mr Hogenauer is a fantastic teacher," Robison said. "He will break [math concepts] down on a fundamental level that is easy to understand and easy to remember."
Junior David Morris said that he agreed with Robison and that he enjoys Hagenauer's energy and presence in the classroom. Morris said that he likes how Hogenauer actually engages with his students and relates to them.
"I have never had a better math teacher in my life," Morris said. "I have learned more this year in math than I have in my entire life."
Hogenauer said that he has really enjoyed his time in the Piedmont Unified School District and at MHS so far.
"One of my favorite things about teaching at Millennium had got to be the small class size," Hogenauer said. "It's such a unique opportunity to be in a place where you have the opportunity to do one on one and small group activities with students."