Art students sculpt their futures with portfolios
A cross made out of medical supplies… a unique concept that takes creativity to come up with, and technical skill to portray such a scene on a poster. For senior Jonathan Dinetz, the passion that he found in creating posters such as the medical supply cross motivated him to apply to an art school, Dinetz said.
"When I started doing posters for the school, I really enjoyed it," Dinetz said. "So I said 'Why don't I attempt to do this and see how it's going, go to art school and try to pursue this.'"
Others applying to art school had an idea of their intentions long before the application process began. Senior Elka Sorensen said that by the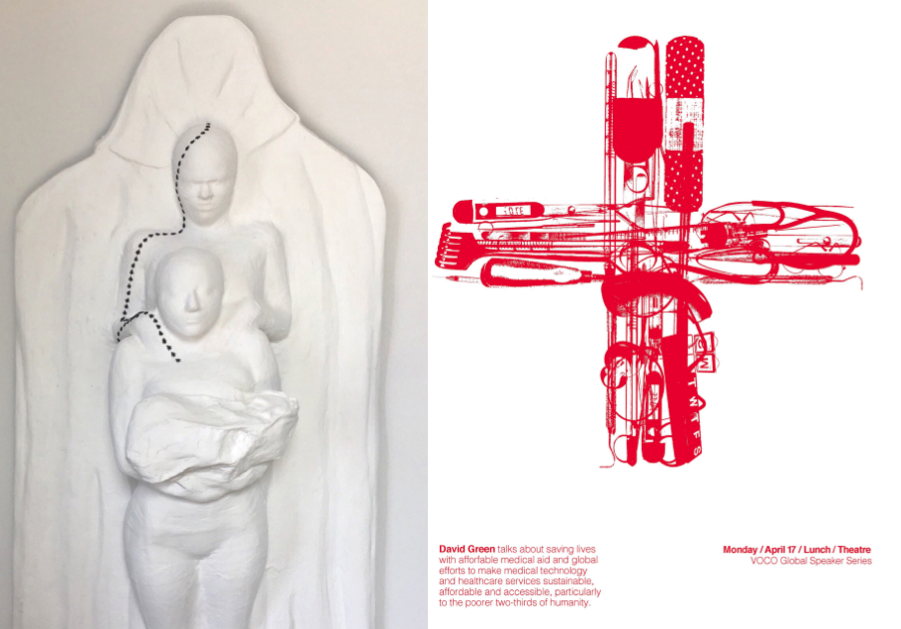 beginning of high school she knew that her interest in the arts could translate to college and even a future career.
"I liked acting, I liked singing, I liked drawing, I liked a lot of different art things but I realized that visual art was what I felt the most comfortable with," Sorensen said.
Even freshmen in Art I are building their portfolios whether they know their future plans or not. By the time a student enters Art III they usually have already created the pieces that will make up their portfolio, allowing them to focus on other aspects of an art school application, art teacher Gillian Bailey said.
"When [art students] get to their senior year they are working on gathering information, writing essays, sometimes doing extra artwork assignments for applications," Bailey said.
An art school application adds another dimension to the college process as art schools require a portfolio as well as a different kind of thinking, Sorensen said.
"If you are applying to art schools, they want to see what your brain comes up with and less of your technical skill because they want to see your potential in being a real artist," Sorensen said.
Senior Will Dalton is finding a balance between conceptual and technical skill as he is applying to a program shared between a research university and an arts school. The program would allow him to explore his academic and artistic interests, as he would have the opportunity to earn a bachelor of arts and a bachelor of fine arts.
"I really like art and I really like learning about more academic subjects as well," Dalton said. "I don't know exactly what I want to do but I feel like there are a lot of opportunities there to find something that I really like."
A portfolio of 10 to 15 art pieces makes or breaks an art school applicant's chances of acceptance just as the GPA and essay determine acceptance to a liberal arts or research university.
Sorensen said a big plaster sculpture accompanied by a ten page research paper is her favorite piece in her portfolio.
"[The sculpture] feels like a really completed thing in my life, and I have a lot to say about it. I have my long paper that I could always dish out to people," Sorensen said. "It's definitely the biggest piece I have ever made so it's definitely up top and going in all my portfolios."
Dalton has been working on the pieces that are going into his portfolio for the entirety of his high school career and advises others interested in art school to do the same.
"Make sure the pieces that you are working on are something that you actually like and would be willing to submit, because you don't want to be cramming when you're older to get a bunch of pieces to put in your portfolio," Dalton said.
While she was not working on her portfolio as a young child, senior Meryl Shi had an interest in fashion design while in elementary school.
"I always thought about fashion design, so in elementary school I already had an idea I just never really did much," Shi said. "But I did go take art classes and I did all that stuff, so it was pretty straightforward for me to decide."
Not all students are as forward thinking as Shi. Bailey said that most students are only confident of their intentions to apply to art school in the later stages of high school.
"I think [students] have a pretty good idea in their junior year because they are usually in Art III at that point or they are really starting to get excited about art or design in a specific area," Bailey said.
Shi explored her passion for fashion over the summer at the Academy of Art, hoping to discover if it was in her future, Shi said.
"I really like my fashion design that I did over the summer at Academy of Art just because it helped prove that I am capable of doing fashion design and confirm that it is something that I wanted to pursue," Shi said.