Singh educates and empowers students
Educational consultant and activist Natasha Singh helped organize events and workshops in PUSD to educate students about healthy relationships, consent, and diversity. This year, Singh launched monthly workshops for freshmen girls and boys, which began on Oct. 22. She also held a training to guide teachers and students in leading discussions at the Consent Assembly debrief and has been nominated to help develop a Diversity Assembly on Nov. 13.
"I want to hold space for courageous conversations, for safety, and for justice for everybody," Singh said.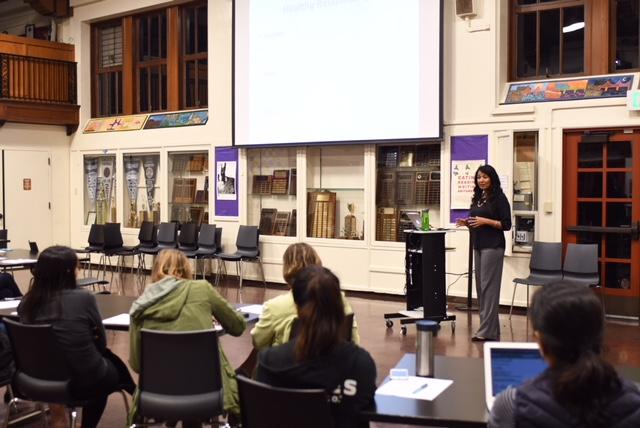 The Piedmont Recreation Department houses the workshops for freshman and because they are gendered, at the beginning, Singh said she focuses on gender identity.
"We talk about toxic masculinity, which is the way boys are taught to mask their emotions based on rigid notions of masculinity," Singh said.
With girls, Singh has often talked about dress code opinions. She said she understands that girls want to express themselves, but does not want girls to feel like they can only express themselves through their appearance and being validated by others.
"They often think that power and freedom equals performance, style, and looks, rather than one's own unique expression," Singh said.
Singh also teaches about consent and healthy relationships because she said there is a need for this kind of education early on. Singh works with kids as young as eight years old and also with adults through workshops, private consulting, and larger presentations.
At the consent debrief training, Singh taught PHS students and faculty how to guide discussions about consent and said she stressed the importance of embracing the awkwardness.
Senior Abigail Willson attended the debrief training before leading discussions with freshman.
"It's most important to reiterate that you are willing to have these conversations with people because you are care about them," Willson said. "Acknowledging that it is awkward and acknowledging that you are willing to work through it is important."
English teacher Matthew Klein, who also attended the training and debriefed with freshman, said that in addition to being aware of the problem of sexual assault and understanding solutions, it is important for students to be aware of resources.
"The most significant thing I took away from the training was seeing our young people involved and actively engaging in the discussion and being proactive," Klein said. "Young people have a window into what youth go through and they can speak better to it than someone who is older."
Klein also said that PHS and MHS need to figure out how to continue discussions around consent after starting them with the assembly and debriefs.
"The thing the school is doing well is having a consent assembly," Klein said. "Having these difficult discussions with kids and encouraging kids to have these conversations at home and amongst one another is huge. We did not have that at my old school site at all."
Singh also said that in general, schools must improve their education surrounding sex, gender, and healthy relationships.
"Students are being taught the biological parts of sex, and then comes the fear through learning about STIs and pregnancy, but educators don't talk about the emotional side of it," Singh said.
Willson said that consent and healthy relationships are topics that impact everybody, just in different ways, and therefore, discussions are critical.
"Working through awkwardness in conversations is applicable to other topics," Willson said. "[Singh] discussed how to talk to your parents about sex, which was really interesting."
When Singh speaks to parents about their kids' education, she begins with two questions to make sure her and her audience are on the same page: what their hopes and dreams are and whether they hope their children will have healthy relationships.
Lack of discussion between parents and children can cause the children to have false perceptions of what healthy relationships are, Singh said.
"Silence communicates volumes and fear communicates volumes," Singh said.
Singh's focus on healthy relationships with the presence of social media stemmed from her experiences as an English teacher.
Singh said that students used to gain most of their knowledge about the world from literature, but as social media became more prominent, she noticed a shift.
"I felt like I was failing my students by not also teaching them about the media landscape," Singh said.
Singh said that because kids are curious and have the internet at their fingertips, their sex education comes from movies and porn.
"People underestimate what kids are thinking about and tend to sugar coat," Singh said. "Teens and preteens don't want to be talked down to."