Bullshot Crummond is too good to stay seated
The lights dim, audience members turn their heads with excitement towards the stage, and the adventure begins. November play "Bullshot Crummond", which opened on Nov. 2, began and ended with loud noises, from a crash of a German plane to the boisterous standing ovation of the crowd. The play tells the story of two Germans, Otto von Brunno (Olivia Wiebe) and his mistress Lenya (Domenic Arrabit), who attempt to steal a formula to create diamonds from Professor Fenton. However, they are interrupted by the British Captain Bullshot Crummond (Andrew Hansen) who teams up with Rosemary Fenton (Maggie Lucas), the professor's daughter, in order to save the professor and stop the von Brunnos from their evil plan.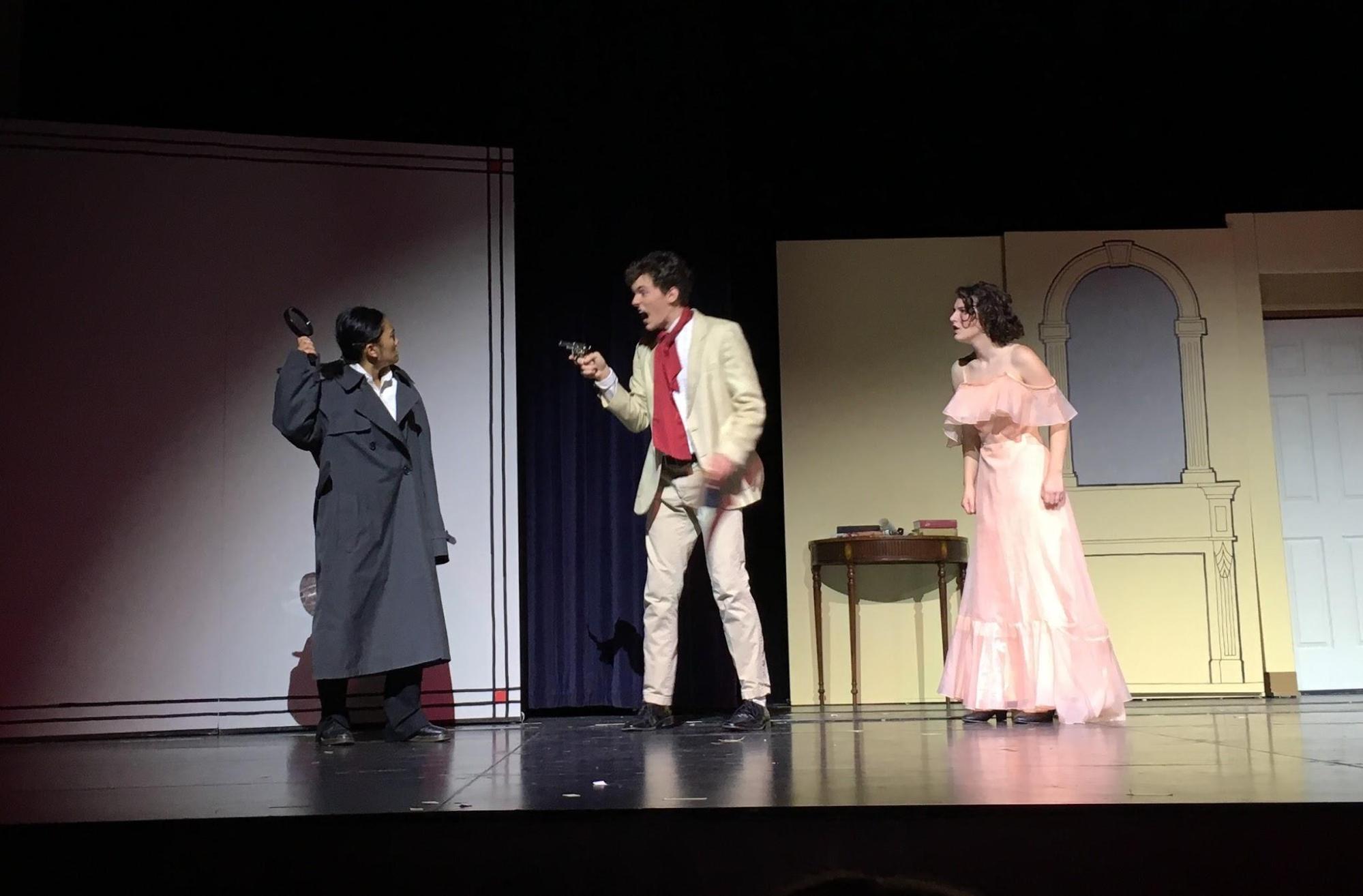 Set in England in the 1930's, the play is a satire on British heroes from the 1930s.
"We generally hope to 'disturb the comfortable' and 'comfort the disturbed'," director Kimberly Taylor said in the play's program. The comfort comes from the silliness of the script itself, and the disturbance occurs where Taylor and the acting class chose to either highlight or subvert certain old-fashioned gender stereotypes when it made sense to do.   
"I feel very lucky to be in a cast with such hilarious and talented people," Sibal said. "It's a comedy, which I've never really done before."
The intention of the play was to have one person play seven different characters, which Sibal did.
"It was unlike any other show that I have ever been in because I played so many characters. It was all such a new experience and I had so much to learn from it," Sibal said.
Sibal said that she prepared for her performances by embodying each character she was playing, including the practice of all of their different accents.
"It was so nice to have people laughing because during rehearsal it was kind of dry. When we finally had people laughing at the jokes it felt so much better," Sibal said.
Junior and member of the advanced acting class Avni Wadhwani said that the play was very well acted and she loved seeing it the two showings as well as during rehearsal.  
"I thought it was hilarious," Wadhwani said. "I had seen it in acting class as well, so to see the progress from how it was individually as separate scenes to everything coming together in the play was so amazing and fulfilling."
Senior Vivian Anable Eme, who is also in Advanced Acting, said that she thought the play was amazing and that she was very proud of the members of her acting class who participated in this play.
"I am in another play," Anable Eme said. "I only heard little snippets of what they're doing and it's always really really funny. But being able to see the whole thing together was absolutely hilarious."
Sibal said the cast had gotten really close throughout the rehearsals, especially because it was such a small cast containing just five actors, two stage managers, and a few other techies.
"The fact that we can all fit in one car is just so nice and we've just gotten so close and so used to each other," Sibal said.
Senior Emma Ziegler attended the show and said that she liked how it went away from tradition by not trying to hide what was going on backstage.
Ziegler said that she would watch it again because it seems that every time it's a little bit different, leaving open the opportunity to notice and pick up on different things.
"It's quirky. It's fun," Ziegler said.