Narter, Hochster follow the rhythm of their musical hopes
The speaker switches on, channeling the anticipation and excitement of the group of friends sitting huddled in the pine scented woods of Anchor Bay. For a split second, a girl hears a faint fragment of a song. As the volume increases, a wave of nostalgia overcomes her, the ambient noise fades out. A feeling of companionship floods through her. Overcome with fondness, a wistful wind carries her to first grade.
The silky, adolescent voice of her friend floats through in the ambience of her first grade playground. She sees her best friend jollily singing in a carefree manner, as they glide freely in the wind. In the background, her friend hums the melody of her future song Remnants.
"It was one of those moments where you can close your eyes and feel so content," senior Genevieve Raushenbush said about the first time she heard senior Ko Narter's EP.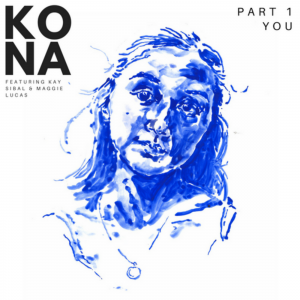 Through music, Narter and senior Ben Hochster strive to establish similar emotional connections with their listeners.
On Oct. 15, Narter released her album EP, "You," part one of a two-part series titled "Kona." The album features songs written by Narter which are performed by herself, and seniors Maggie Lucas and Kay Sibal.
"Kona" is about Narter's life story and experiences with hardship, Lucas said.
"It's a very vulnerable thing for her to put out there," Lucas said. "She took her real life, and a lot of times her heartbreak, and turned it into music. I think it's really helped her come to terms with everything."
"Kona, Pt. 1: You," is a culmination of stories about people she is close to and how they have affected her, Narter said.
"Because the stories are so personal it's somewhat of a diary to the world," Narter said. "Yet, [the stories] are things that other people are going through and can relate to."
The creation of "Kona" is a way for Narter to work through her feelings and new circumstances, she said.
"Getting to work on these songs months or even years after they were written has really helped me to reflect on my experiences and how I have overcome them," Narter said.
Following the release of her EP, Narter said she has reconnected with people.
"After the release, I've gotten so much good feedback from people I know and see every day, and also people that I haven't talked to in a couple years," Narter said. "My main goal is to connect with people through my music."
Unlike Narter, who evokes past memories in her listeners with acoustic songs, Hochster uses electronic music production. For the past two years, Hochster has been creating and producing this type of music. Since it is a mix of different genres, Hochster describes his music as being "ambient electronic music."
"I mess around with different instruments, sounds, and synthesizers and mix them together," Hochster said.
Hochster said he is passionate about this new sector of music because he has always wanted to make music that he likes.
"I like the idea of being able to be artistic through technology," Hochster said.
Hochster's profound understanding of music has allowed him to thoroughly express his emotions through his music more than words ever could, Raushenbush said.
"I feel like I can understand [Hochster's] mind and way of processing emotions through the music he produces," Raushenbush said. "I think that [Hochster] has confirmed that music is a universal language beyond just English."
Since electronic music typically is not considered mellow, Narter said it is interesting to see how Hochster combines his introversion with this genre.
"A lot of the music is pretty downtempo, which reflects how I act usually," Hochster said. "Every once in awhile I try to make a song that I wouldn't really listen to or reflect me. But I think it's cool to experiment with different moods and sounds that I'm not used to. It makes a really good personal outlet and gives you a way to experience new things and get out of your comfort zone."