Humans, orcs, dragonborns join together at D&D club
Two opposing teams strategize to take each other down before the game starts. Every player acts as a character with different attributes and skills, trying to lead their team to victory. The game master, club president MHS junior Nick Wilde, draws a battlefield from memory on the whiteboard. The game begins, players draw helicopters and tanks on the board, shouting in excitement and triumph. This fun, chaotic scene belongs to the Dungeons and Dragons (D&D) club playing Paranoia, a fun, quick game that the club plays on Tuesdays and Thursdays.
D&D is a competitive board game driven primarily by its story. Friends get together and play through campaigns, which are long games of D&D where players work towards a goal, like finding a treasure or defeating a foe. The club meets primarily outside of school, with campaigns being held at member's homes because the campaigns are often more than five hours on average, D&D club member junior Sam Orta said.
Wilde founded D&D club last year because he didn't have a group to play with at school.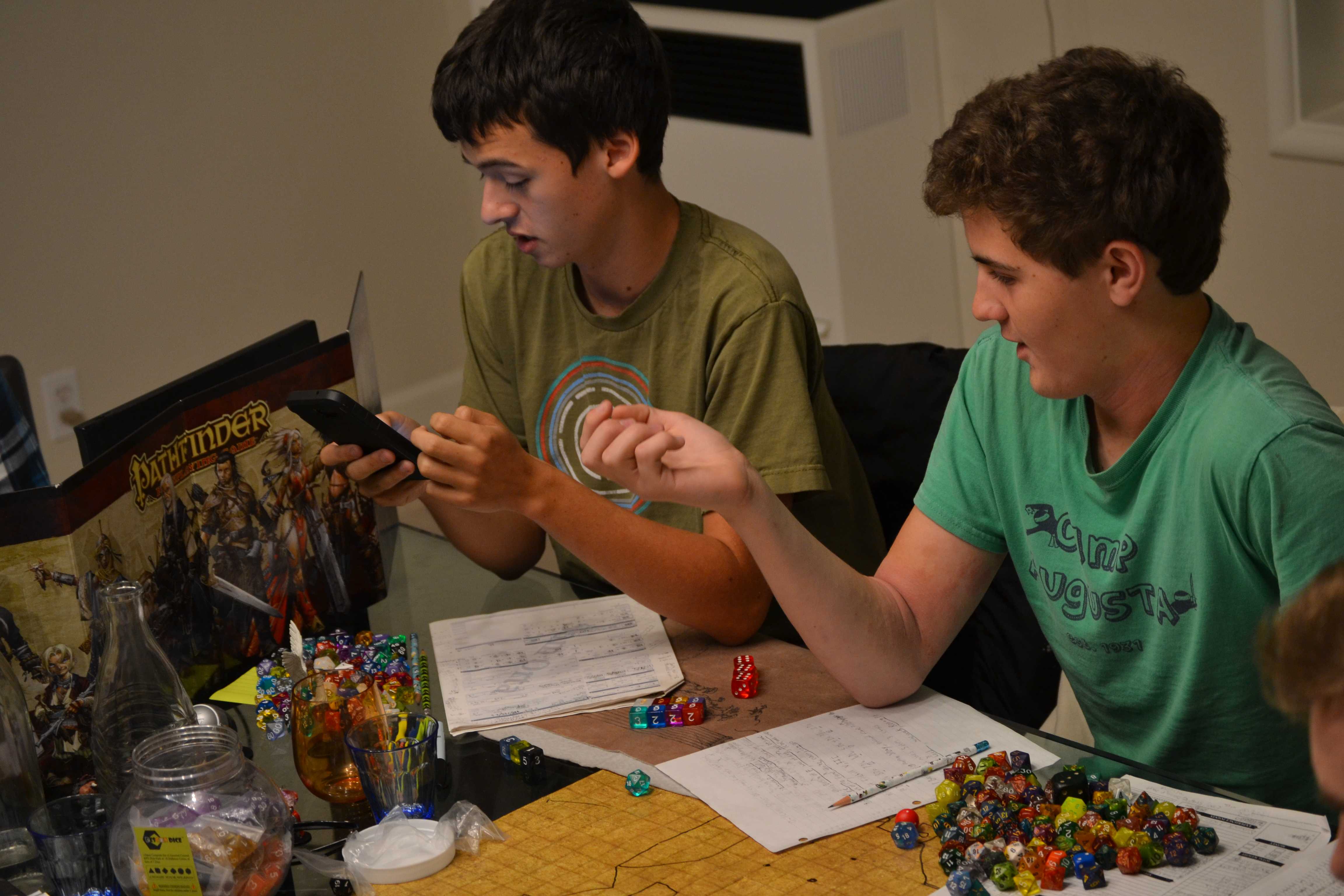 "I had a few friends at Piedmont, and I decided to start the club just to see what I could do with it and maybe get more members to play with," Wilde said.
The club got thirty signatures on club day, which Wilde said surprised him.
"It went a lot better than I thought it would," Wilde said. "It was a lot for me, someone from Millenium who had never had a club before and didn't know a lot of people at Piedmont."
Wilde said his first experience with D&D was in elementary school when he was at his friend's house and saw that his friend's father had D&D books hanging on the walls.
"I asked about them and he told me what they were," Wilde said. "At that point, I was really too young to get it, but I still wanted to learn what it was. I really started to get into it when I was 10."
Wilde said that his favorite part of D&D is interacting with its world and storytelling, "[D&D] is a great way to tell stories in an interactive way," Wilde said.Other club members also got involved with D&D at young ages. Orta said that his first experience playing D&D was with eight of his friends in the back of a store on Telegraph avenue. Orta said that a week later he was hooked.
"The first sessions were hectic as less than half of us knew how to play, but even when I was clueless, the game was really fun," Orta said.
Orta now runs a campaign at his house on Fridays, and plays in another one on Wednesdays. Orta said his favorite moments are when everyone at the table shares a common emotion. It could be stress from the climax of a fight against a demon, joy from hosting a rock concert, or just pure terror and the room around everyone's character turns to flame.
"People think that D&D is extremely hard to get into, and its filled with complex math equations," Orta said. "In reality, the most important skill in the game is acting. If you can imitate a character in a made up world, the rules of the game are easy to learn."
Club member junior Brooke Hendershott said she was also introduced to the game last year.
"I'd heard of the game and was invited into a campaign by [Orta]," Hendershott said. "The group was full of people who had never played before, so it wasn't intimidating like it would be if the group was full of experienced players. [Orta] was very forgiving of the learning process we all had to go through, and it's still a great game we play weekly."
Hendershott said her favorite part of D&D is the character interaction, and meeting and befriending new people.
"Everyone gets very into the game and acting as their character, and with a group of eight people, there are bound to be personality clashes," Hendershott said. "Also, at least in my experience, the [game master] puts on ridiculous voices to differentiate NPCs, as well as give them over the top personalities when possible. All this combines to make a table full of laughter."
Wilde said he wants the club to teach more students about D&D, increasing the amount of students who play it.
"People think D&D is super complicated and the fanbase is very elitist, and I think that may have been true at one point, but I don't think it is anymore." Wilde said."I'm trying to promote more diversity in my club too, anyone can show up, you don't have to know how to pay, you can just come, learn and have a good time."