Jewish Student Union reforms religious discussion
"Food, news, and all types of Jews," said co-president of Jewish Student Union senior Zoe Levin.
Stepping into room 17 during a typical Tuesday lunch, one can find just that and more at Jewish Student Union, otherwise known as JSU. Each week, students meet to learn more about Judaism and talk about issues that pertain to both the Jewish community and students in general, said co-president of JSU senior Maya Marcus.
JSU originated at PHS in 2011 and was led by Rabbi Akiva Naiman until 2015 when Naiman moved to Israel. JSU leaders at the time found a new director to run the club, but it eventually lost support without Naiman to lead it. Naiman has since returned to the East Bay and took over teaching JSU once again in September, Naiman said.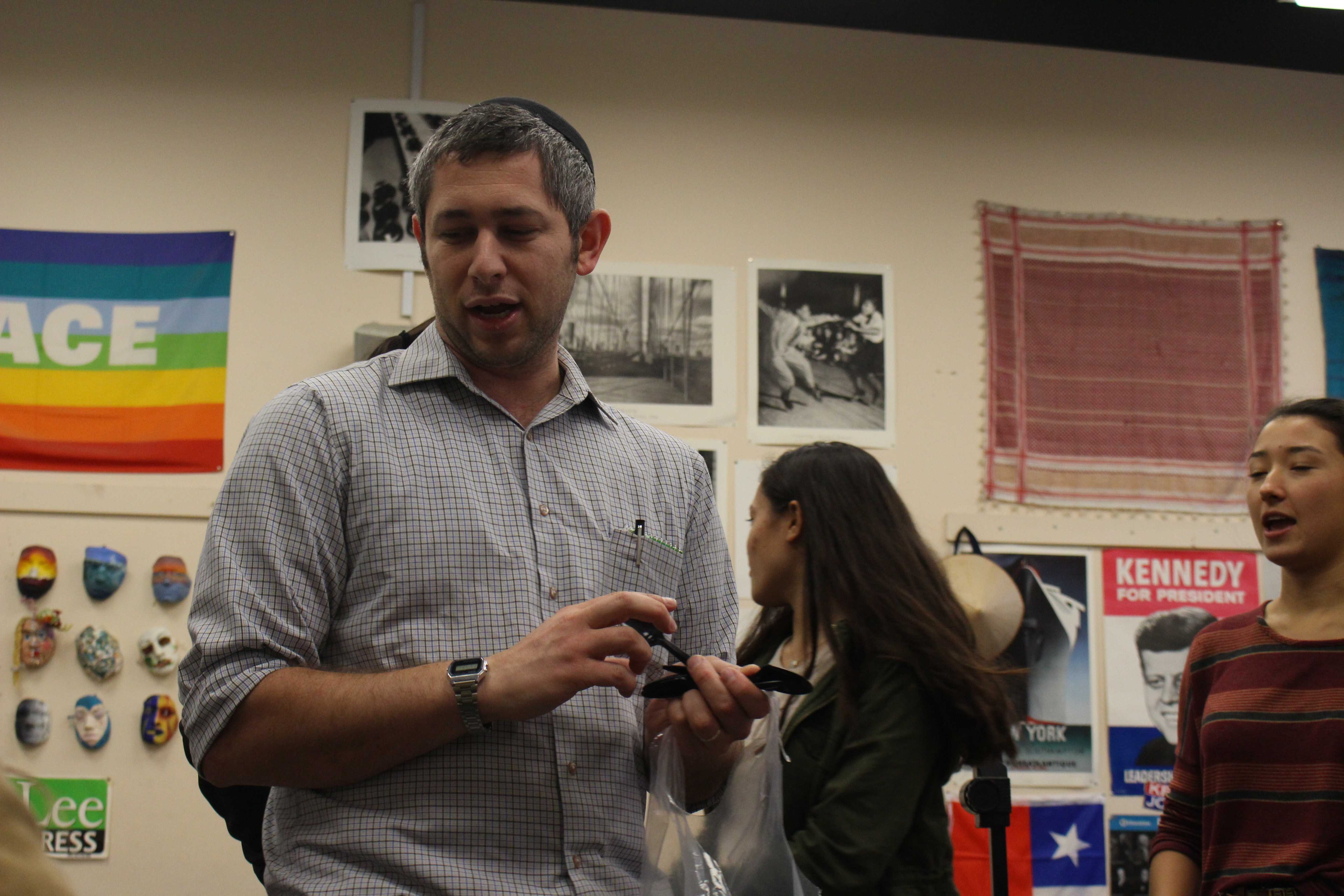 While some of the Jewish students had discussed reviving the club earlier last year, the anti-semitic events that occurred at PMS and PHS during second semester pushed Marcus, Levin, and JSU's other co-president junior Sara Zimmerman, to reboot the club shortly after the anti-semitic incidents surfaced, Marcus said.
"I think that [before the anti-semitic events] we were just interested in having some sort of Jewish club or a place where people could gather," Marcus said. "But then after that we were like, this is something more serious."
At the time, JSU was a place for students to learn more about the specific events as well as share their voice with other students, Marcus said.
"[The anti-semitism] really started a discussion," Marcus said. "I think it's good for people to realize that not only when there are issues that arise at school that people come together, but also just in general, people should be able to talk about their religion and take pride in their religion."
JSU works to prevent anti-semitic events from ever reoccuring at PHS and that begins by understanding how they originated in the first place, Marcus said.
"It's not that there are a lot of people who don't like Jews," Marcus said.
Much of the hate towards the Jewish community stems from a lack of understanding and general knowledge about the religion and the culture associated with it, said JSU club member senior Micah Bloom.
"Being educated about other cultures can really help everybody be more understanding of differences in terms of diversity," said JSU club member senior Lena Fleischer.
JSU, as well as the other clubs raising awareness on campus, does a good job of informing students, Bloom said.
"Inherently a part of society is to people break down into groups based on different things," Bloom said. "I think it's not about breaking down the groups, it's about utilizing those barriers to make connections."
Not only does JSU provide information for students that want to learn more about Judaism, but it also teaches students how to utilize that information to stand up for themselves and their beliefs, Levin said.
"We want people to be able to defend what they believe in and what's important to us as Jews," Levin said.
Many of the students that attend JSU have found that the lessons and beliefs of the Jewish community are fairly universal and can be tied back to issues that affect their day to day lives, Levin said.
"The stuff that we learn about, though it relates back to Judaism and Judaism's core values, is unbelievably applicable to every aspect of life whether or not you are Jewish or Christian or not even religious at all," Levin said.
One lunch was spent talking about the dangers of wasting time and how to maximize one's time, and on another week, students discussed diversity on campus and the right everyone has to their own opinion, Naiman said. Naiman teaches the lessons at PHS.
While many students at JSU come for the discussion – and some come for the food – a few come just for Naiman, Levin said.
"He has the energy of somebody very young, but he's way wise beyond his years," Fleischer said.
Part of Naiman's appeal to students is the way he breaks the stereotypical misconception of how a rabbi should look and act, Levin said.
"I like writing my own rap and freestyling. I juggle fire. I like reading, writing, and basketball," Naiman said.
Each lesson is created to challenge each student's way of thinking and how they perceive the world and each other, Naiman said.
"I try to push [the students'] comfort zone in terms of what they're thinking about," Naiman said.
Although some of the topics might be challenging to discuss, Naiman's charisma creates a positive atmosphere for everyone, Levin said.
"He doesn't care who you are or what religion you are," Marcus said. "He just wants to talk to you and get to know you."
Part of the reason JSU is so inclusive of people with different beliefs is because not every Jew has the same stance on religion. Some students are Orthodox Jewish, some are descended from Jews but are not religious, some attend synagogue services every Saturday, and some only go on high holidays. Judaism encompasses many different people with many different backgrounds, which is why JSU is so approachable and relaxed for people of all religions and identities, Marcus said.
"You can be a part of the Jewish community here no matter what kind of Jew or not Jew you are," Levin said.