2018 MLK Day Celebration at Veterans Hall
Over fifty years ago, Reverend Martin Luther King Jr. delivered a speech after the march from Selma, Alabama.  A phrase from that speech still inspires and resonates with people to this day: "The arc of the moral universe is long, but it bends toward justice".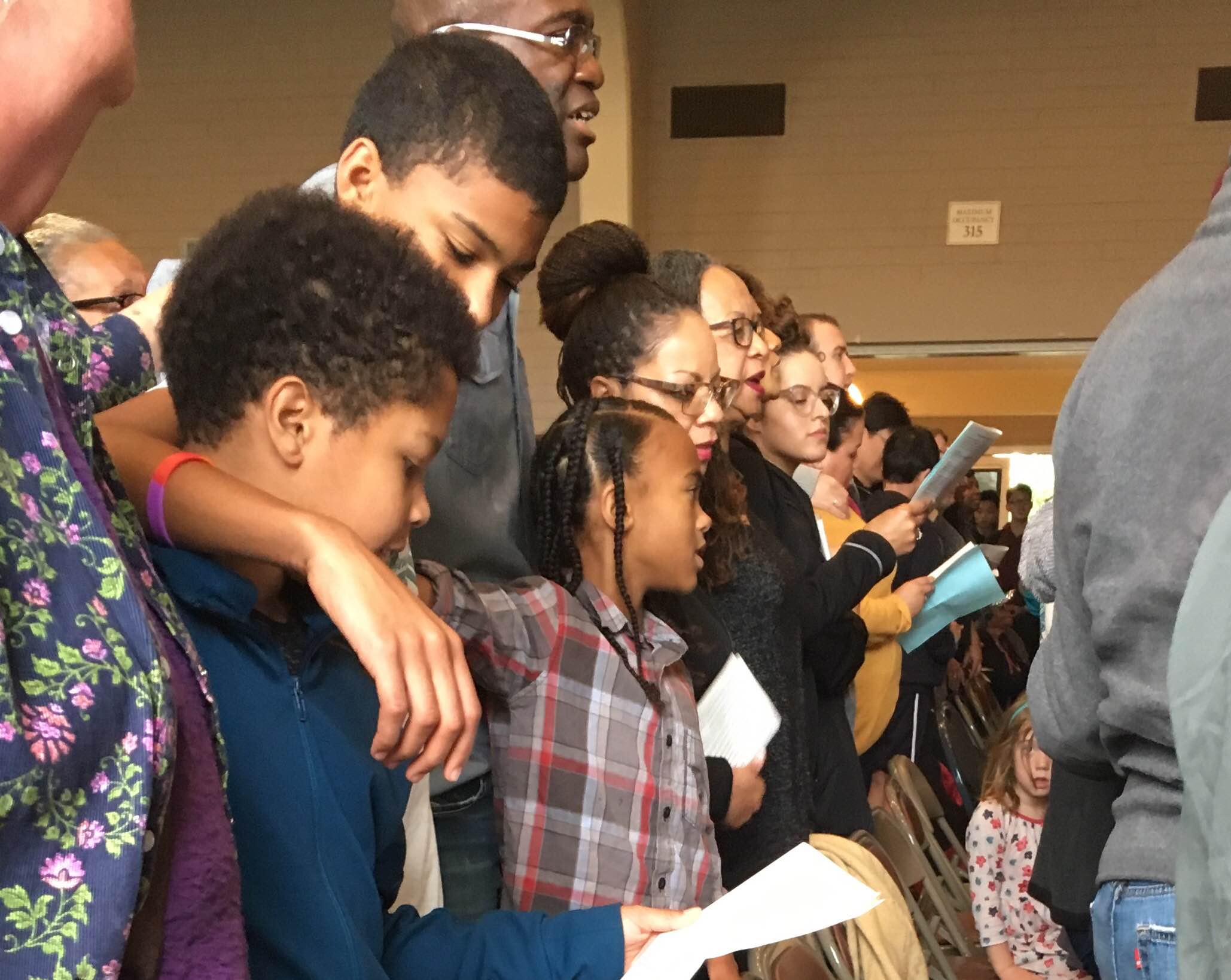 The 21st annual Martin Luther King Jr. Day celebration, titled "Bending the Arc!" to pay homage to King's quote, took place in Veterans' Hall on Jan. 15.  The event, sponsored by PADC and the City of Piedmont, featured a series of speakers and performers who graced the sun-lit stage.
U.S. Congresswoman Barbara Lee helped kick off the event by delivering remarks that echoed King's famous "I have a dream" speech.
"Let us recommit ourselves today to the work of MLK so our children and grandchildren will have a future they deserve: a real economic, social equality and peace in the world," Lee said.
During his time at the podium, PADC Co-President Kobi Eshun said that progress begins with conversations about divisive issues.
"I believe that talking to each other – and really hearing each other – is an essential step towards the vision of inclusion, equity, and justice," Eshun said.  
Social Activist of the Bend the Arc organization Tonda Case said that in the spirit of 'bending the arc', one must think on an individual level as well as on a systemic one.  
"We are mandated by our humanity to be of service to one another," Case said.
Case also said that in order to honor King and his dream, one must go further than just analyzing him.
"Don't just quote him, live the life you want to live," Case said.
Speeches are not the only way to spark conversation, said junior Saira Brown, who believes that music has the power to convey difficult issues.
"A lot of choir has a message through it," Brown said.
The Westlake Jazz Ensemble, the Piedmont East Bay Children's Choir, and the Oakland Interfaith Youth Choir all performed during the event.
The crowd rose as the Westlake Jazz Ensemble, led by Director Randy Porter, performed the official African American National Anthem 'Lift Every Voice and Sing'.
"The lyrics speak to the power of community and reflect the values that we hope for in this country," according to the Bending the Arc! Pamphlet
Wearing a gray blazer,  Westlake Jazz Ensemble member and seventh grader Amaya Lopez performed 'My Shot' from the acclaimed musical, Hamilton.  However, she and her fellow Ensemble member Melissa Campos tweaked the lyrics to address the current political climate.
"We wanted to stand out and put it in a song, and show that we are not okay with what [Trump] is doing right now," Lopez said.
Lopez and Campos said that Hamilton spoke out against slavery, and that they wanted to use the song to speak out against racism and intolerance stemming from the White House.  Lopez, who rapped the line "Trump keeps spitting on us endlessly," received a standing ovation at the end of the song.  
Lopez was not the only one to mention the president.  California District Assemblymember Tony Thurmond said that instead of reproving white supremacist groups such as Neo Nazis and the KKK, Trump promotes a divisive culture.
"He is supposed to be the uniter in chief, not the divider in chief," Thurmond said.
Case said that events such as 'Bending the Arc!' are important because they serve as a way to communicate with many people at once.
"You speak once, to many ears," Case said. "You speak once, to many hearts."
In order to spark further community dialogue, the PADC will also host "Let's Talk"workshops, starting Feb. 5 in the Piedmont Community Hall.  
"These workshops will be led by Sara Wicht, a trainer and consultant who developed and now implements Southern Poverty Law Center's Teaching Tolerance curriculum," according to the PADC website.