School district discusses possible budget cuts at Feb. 1 workshop
On Thursday Feb. 1 PUSD held a budget workshop to discuss the possibility and implications of budget cuts. For the 2017-2018 school year, the district is scheduled to spend $1 million more than it receives, according to a multi-year budget projection report presented at the meeting.
However, the state of California, currently in the midst of an economic boom, is expected to give PUSD a one time $760,000 "bonus," superintendent Randall Booker said.
"The million dollar question, no pun intended, is will we have to cut?" Booker said.
Inadequate state funding, compensation increases for district employees, and changing pension fund requirements are forcing the district to deficit spend and dip into its financial reserves, Booker said.
"The state of California is not funding school districts, Piedmont included, to the level that they need to," Booker said. "They are not funding what we call the base funding level appropriately."
The base funding level, called the Local Control Funding Formula (LCFF), is the money the district receives from the state of California. This year the district will receive $20.7 million from the state, which is $19 million less than the district's current $39.7 million budget.
Piedmont's increasing retirement fund obligations have also put the budget under strain. According to a fact sheet handed out at the meeting, 2014 pension costs of $1.6 million are projected to rise to $4.5 million during the 2019-2020 school year.
"That's creating such upwards pressure on expenses, and that's really what's causing the budget problems," said budget advisory committee and school board member Cory Smegal."
While the state helps school districts with pension costs, school districts must now shoulder a greater share of the costs than they used to, said assistant superintendent Song Chin-Bendib, who oversees the district's finances.
"I think people need to understand that the state is broken on a structural level and the funding challenges we face as a district are not because of mismanagement at a district level but a structural problem at the state level," said Piedmont parent Allison Elvekrog, who attended the meeting.
Piedmont also receives less state funding than most school districts due to its relatively wealthy socioeconomic demographic. In 2013, LCFF changed the way it gives money to schools. Whereas in the past schools received LCFF funding as a flat dollar amount per student, the funding now comes in three categories: base funding, supplemental funding, and concentration funding. With the new system, schools with more foster youth, English language learners, and students below a certain socio-economic threshold receive extra funding, Booker said.
"[The state of California] said there are school districts out there that have higher need based on their student population," Booker said.
The multi-year budget projection showed that if financial projections remained static, the district will cut $200,000 during the 2018-2019 school year. However, the projection does not take certain expenditures increases into account, including teacher and staff raises, Booker said.
"Do you think I'm going to get away with  not giving any of our employees a compensation increase for three years?" Booker said.
The district bridges the $19 million gap between LCFF funding and their expenditures with a flat parcel tax paid by every household in Piedmont and through support from the Piedmont Education Foundation (PEF), said Chin-Bendib. Together, the two make up one third of Piedmont's budget.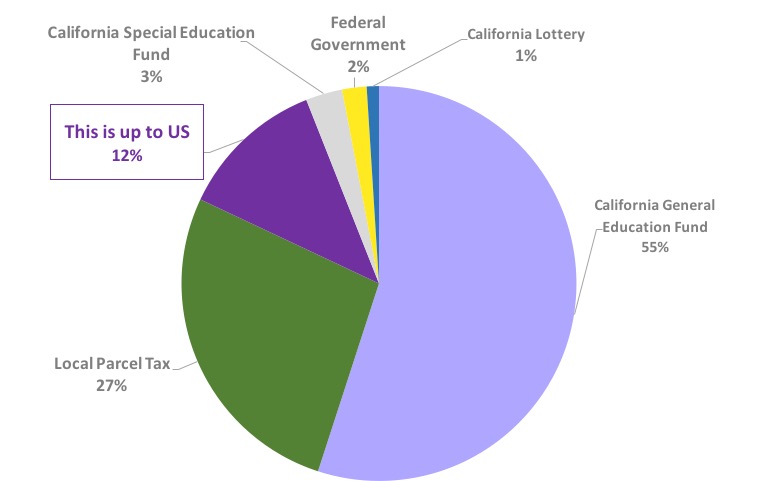 "We wouldn't have survived without those two combined," Chin-Bendib said. "There's no Piedmont Unified without their parcel tax or donations."
Chin-Bendib said parent donations through PEF allow the district to provide students with an outstanding education. According to the PEF website, Piedmont Unified currently ranks No. 1 in Northern California for students who meet or exceed California's English and Mathematics standards.
"We're asking people to help us out. Give generously, we need your support," Chin-Bendib said.
During budget shortages, the district first looks to cut programs that will not affect the classroom, Booker said. Last year, the district cut around $120,000 through this approach.
Over the last few years, the district has also saved money by cutting outside contracts and hiring long term specialized staff instead, Booker said.
"For those that have been paying attention, this isn't going to be a new conversation," Booker said. "I hope people come in with open minds about what the possibilities are."