Reicher juggles and flips his way through life
The Great Wall of China. Tourists walk along the ancient stones, as they take in the green landscape. For one red haired boy, however, this incredible scene is upside down.
"When I go to any new spots, or when I travel on vacation, I like to take pictures of myself doing handstands," freshman Graham Reicher said.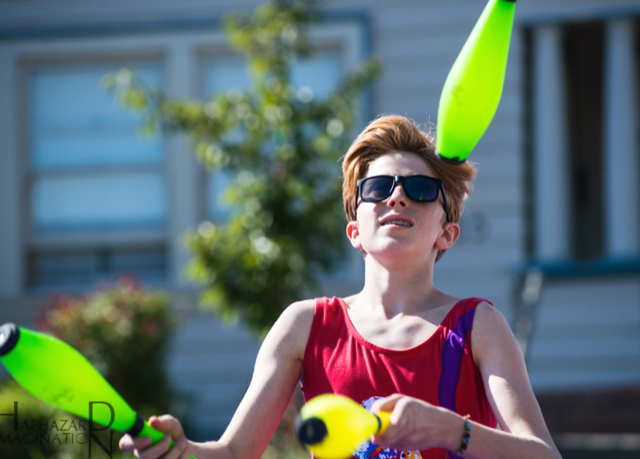 During his trip to China a few years ago, Reicher did his handstand ritual on the Great Wall of China, in front of a government building, and on a boat tour.
As a part of the Oakland Kinetic Arts Center, and Circus Smirkus back on the East Coast, Reicher spends a large portion of his time doing handstands, back flips, side flips and back tucks.
In addition to doing an unconventional activity, Reicher came into the world in an unconventional way. His father actually delivered him, Reicher said.
"I was born at a gas station in a car," Reicher said.
As a kid in Vermont, Reicher would go to New-England based Circus Smirkus shows every summer. He watched the performances under the blue and white-striped pointed tent, eyes focused on the performers' bright costumes, and he found himself yearning to be a part of it, Reicher said.
"I had grown up seeing the shows and I really wanted to perform," Reicher said.
Reicher's mother Carole Parker said that she remembers Graham juggling clementines in the kitchen while she flipped pancakes, marking the first time she noticed his interest in circus.
Reicher said that he attended the Circus Smirkus camp in Vermont for six summers, his passion for it only growing with each session.
In elementary school, Reicher played various sports including lacrosse, but none of them really clicked. The physical ability was there, but he felt that the games lacked creativity, Reicher said.
"Sports are just the same game, same rules every time," Reicher said. "With the circus you can always change the game."
With his interest in acrobatics and his experiences at Circus Smirkus camp, Reicher started pursuing gymnastics. The long commute, however, steered Parker to sign him up for the Oakland Kinetic Arts Center.
"My mom suggested going here and I didn't really want to," Reicher said. "I started taking parkour classes here, that was my first class, and I was really nervous."
It would not take long, however, for this center, equipped with bright colored mats and a chandelier made of various kitchen supplies – whisks, graters, and glass bottles – to become like a home for him, Reicher said.
A few years ago, Reicher sent in an audition tape to Circus Smirkus in hopes of joining the Circus Smirkus Big Top Tour that he had wanted to be a part of when he was a kid. The entrance process was not easy, Reicher said.
"The first year I sent in a video, and didn't get to the live auditions, the second year I got to the live auditions but didn't get in, and then the third year I got in," Reicher said.
With his acceptance into the Circus Smirkus program, he set off to Vermont to start the preparation for the tour, a long and tiring process, Reicher said.
"The 30 performers train and rehearse for three weeks in Greensboro, Vermont," Parker said. "Then they hit the road to compete with a European style big top tent, cook bus, coaches, counselors, tent crew, for a 70-show seven week tour that travels to 17 cities and towns in the Northeast and performs for tens of thousands of people every summer."
Reicher was actually the main role in the Smirkus show titled "Midnight at the Museum" this past summer.
"There is a curator of the museum and I steal his key and I open all of the archives of the museum," Reicher said. "I let all of the parts of the museum out, and I have to try to put them back."
Reicher said that he enjoyed the 'on-the-road' lifestyle that he experienced over the summer, and that it helped him develop a newfound independence.
"You have to take care of yourself," Reicher said. "You are always going to new places and you always have to be very courteous to everyone because they are inviting you into their homes."
Even as they constantly move from place to place, the troupers, who spend every single day together, form amazing connections and become like honorary family to each other. They also eat a lot of Ben and Jerry's Ice Cream, Reicher said.
"Especially with Circus Smirkus , we are all really connected with each other because we are with each other ten hours a day for pretty much three months," Reicher said. "So we all know each other really well and we are all friends."