City Council updates Climate Action Plan
In hopes to reduce greenhouse gas emissions, Piedmont City Council has created an updated Climate Action Plan (CAP) for residents and the city to follow.
Piedmont is committed to creating an updated CAP, in reference to the last CAP from 2010, to meet goals of reduced greenhouse gas emissions in the city, according to the Piedmont Climate Action Plan 2.0.
"The state has greenhouse gas emission reduction goals," said City Council member Jen Cavenaugh. "And every community needs to have a plan in place to tackle those goals."
In 2010, the original Climate Action Plan was set into place to meet goals by 2020, and most of those goals have been met, so it was time to frame a revised plan, said interim planning director Kevin Jackson.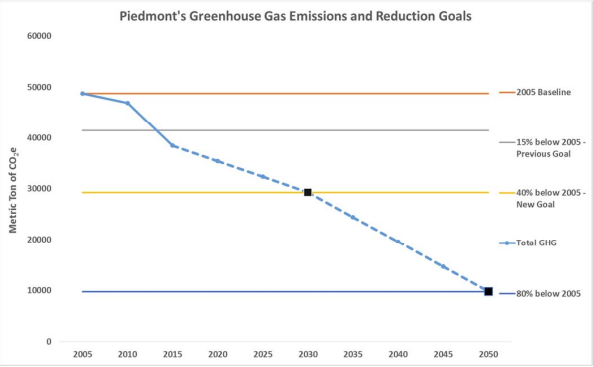 "It's goal was a reduction of greenhouse gas emissions 15 percent below 2005 levels by 2020," Jackson said. "We are on track to meeting that, but 2020 is coming up, so it was time for an update to set a goal for 2030 and 2050."
In 2015, the three largest sources of greenhouse gas emissions in Piedmont were electricity use, natural gas use, and petroleum-fueled vehicle use, according to the CAP 2.0.
"We put together a Climate Action Plan Task Force, which consists of 15 residents, some amazing experts," Cavenaugh said. "It was hard to pick the folks on the force, because everyone was so qualified."
Senior Sophie Lincoln, the student representative on the task force, said the changes will be subtle for residents, but impactful on a grand scale.
"A big part of the plan also focuses on community engagement, like more awareness of sustainability, and actually taking these measures to heart," Lincoln said.
Jackson said that the difficult aspect of the plan is that the city of Piedmont does not have many commercial or business buildings; they are all mostly residential buildings and homes, which makes it difficult to regulate what the homeowners are doing.
One aspect that the city is implementing is more environmentally-friendly regulations when people remodel their homes, Lincoln said.
"The plan is recommending people to have an energy audit when they sell their home, or do a big remodel," Jackson said. "And that would give them an idea on where their house is on energy performance and consumption."
One of the more immediate goals is to have 100 percent carbon-free electricity in Piedmont, Jackson said.
"[Hopefully] everybody in Piedmont will be getting their electricity from East Bay clean community energy, rather than PG&E," Jackson said.
The carbon-free electricity is more expensive, but it is an easy way to get electricity without any greenhouse gas emissions, according to the CAP 2.0.
"If enough people opted for that 100 percent then we would be well on our way to making a big dent in the emissions that come from our residential sector," Jackson said.
According to the CAP 2.0, roughly 70 percent of all greenhouse gases come from cities, and transportation takes up a large part of that percentage, especially in Piedmont.
"Many goals in the plan revolve around getting people into alternative fuel vehicles: walking rather than getting in their cars," Jackson said.
Piedmont will be providing progress reports on greenhouse gas emissions inventories, available to the public once the plan is set in place. Until then, the task force has some suggestions for residents: curb your consumption, support and purchase electricity from 100 percent renewable sources, walk, bike, and take public transportation, drive a zero emissions vehicle, switch to electric appliances, go solar, act individually, and act communally.