Home Base students learn, practice life skills on class field trips
Thirty minutes into the session, chef Doug Eng demonstrated how to break down a chicken. Five minutes later, a Home Base student separated the chicken wing from its body, and the group erupted into cheers. The trip to "In the Kitchen," a private kitchen in Emeryville rented out to groups for cooking classes and events, was one of three field trips Home Base took two weeks ago on Feb. 13 and 14.
Home Base goes on at least two field trips per week to apply the skills the students learn in the classroom to the outside world, Home Base teacher Nicholas Bruno said.
"First we learn [the skills] in the classroom," Bruno said. "Then we take [the students] outside to generalize the skill, so that they can use that skill in different environments."
There are eight students in Home Base, however, each student has their own curriculum and needs, Bruno said.
"It's not like [at PHS] where every kid does the same problem, has the same test," Bruno said. "The kids down here do different stuff because they have different needs, so you have to tailor those needs."
Sometimes lessons must be changed on the spot if the content does not click with the student. Home Base's flexibility is part of its appeal, Bruno said.
"I can teach a multitude of subjects, and I never teach the same thing twice," Bruno said.
Home Base also has a unique student-teacher ratio, paraeducator David Prinvale said. Aside from Bruno and Prinvale, Home Base has three other educators.
"There's so much support in this room," Prinvale said.
Part of the support comes from field trips, including the coffee cart.
Every Tuesday at 7 a.m. Bruno arrives to prepare the coffee. At 8 a.m. the students arrive and are accompanied by paraeducators to sell coffee to teachers and administrators for $1 per cup. The students must listen to the order, follow directions, collect money, use math to make change, and then serve the coffee.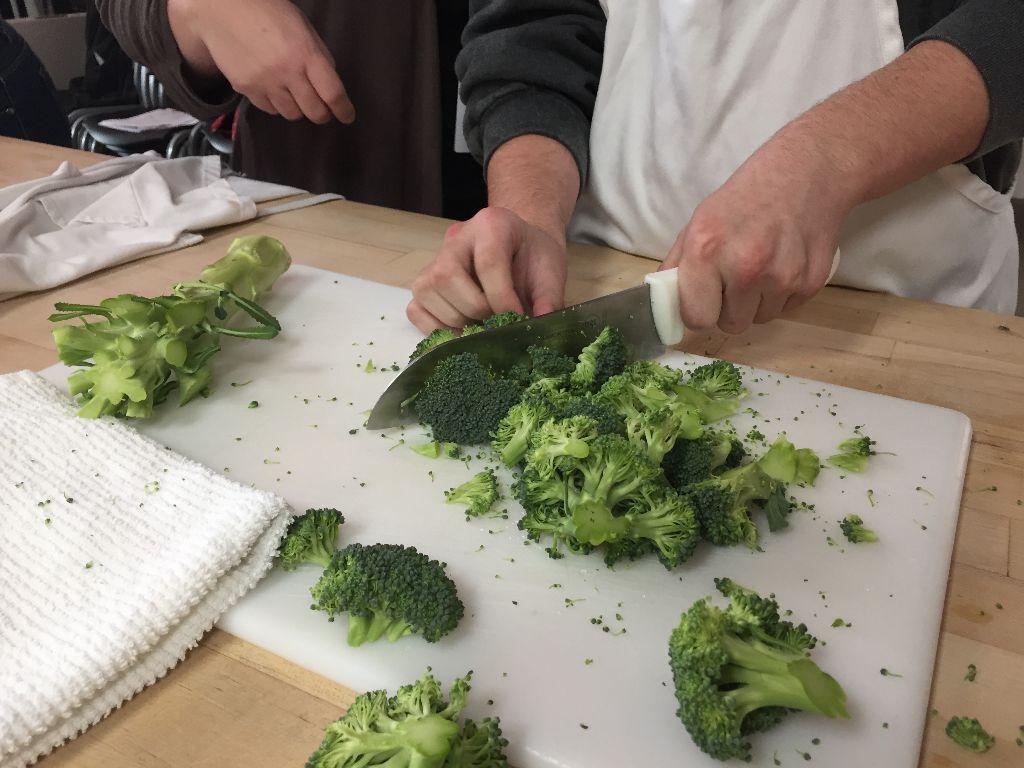 Students also practice their social interactions through small talk and taking drink orders, Prinvale said.
"I pay attention to a lot of their social interactions because I feel like that's one of their most important things to learn," Prinvale said.
After Tutorial ends, the students walk to Wells Fargo to deposit the money to practice money and banking skills, Bruno said. Before returning to class, they stop at Mulberry's where each student can purchase one item. Also students are rewarded with Bruno Bucks, the class money system, Bruno said.
"There's time sheets like a real job where [the students] have to clock in their hours and add them up at the end of the week," Bruno said. "And then I pay them with my Bruno Bucks, and then they can buy things in the [class] store."
The store mainly consists of comic books, snacks, and Mulberry's gift cards.
"[The time sheets are] another skill that [the students] can generalize outside of school once they get a job because when you get a job, have to clock in, make sure the time's right, make sure you're getting paid enough," Bruno said. "So sometimes they don't clock in, and then they don't get the money."
The skills the students learn from the coffee cart and the other weekly field trip to Safeway must be continually practiced. For Safeway in particular, repetition is important, Bruno said.
"When you're an adult, you go to the same grocery store every week," Bruno said. "For these guys, it's harder to catch on to things, so we need to get them really good at this because you need to shop on your own when you live on your own."
The trips to Safeway help students build independence, Bruno said. They practice reading street signs, so they can walk to the store by themselves and know where they are in case they get lost.
Upon arriving at the store, the students work on different skills each visit. If they learn about percentages in class, they might apply them to their trip, searching for items that are 50% off and doing the math to calculate the final price, Bruno said.
On Feb. 13, the students worked on their social interactions while shopping, completing assignments from speech and language pathologist Stephanie Shanely.
"I work on speech and articulation, but I also work on language which covers the social piece," Shanely said.
While the speech and articulation lessons are individualized to each student, the language assignments are taught in groups to build social skills. In the store, Shanely focused on developing the students' social skills.
Students were told to ask customer service if they rent carpet cleaners, ask an employee where to find gluten free bread, ask where to find mincemeat, ask the butcher where to find lamb, ask how much the Valentine's Day balloons cost, and ask customer service if they carry dry ice.
The students' goals were to get a person's attention, interrupt politely, make eye contact, ask a question without a script, and close out conversations with the words "Thank you," Shanely said.
Another life skill that Home Base students recently learned was how to break down a chicken. On Feb. 14 the Home Base students and staff drove to "In The Kitchen." The space was rented out by The CIL, a group that works with people of all ages with mental and physical disabilities, said The CIL project manager Jenni Fick.
After the final student removed the last chicken breast when breaking down the chicken with Eng, the group washed their hands, and sat down to plan out their meal. They made deep fried chicken wings, teriyaki chicken, chicken soup, and chicken milanese for on top of ramen.
Home Base will work with the CIL again, Bruno said. The CIL also provides transportation services, teaches people how to advocate for themselves, and gives them independent living skills.
Field trips give students the opportunity to be in the real world, Prinvale said. It's what makes Home Base special.
"I think life skills are something that could be applied across school," Prinvale said. "If more kids got real life experience it would really help them out."