The Tempest: trapping students, freeing prisoners
Trapped: a universal feeling captured in poetry, prose, and play, from high school diary entries to Shakespearean sagas. But for incarcerated people, the word goes beyond metaphor.
Opening on March 8, the Acting 3-4 class has captured the struggles of living behind bars in their play The Tempest, set in a women's prison, said acting teacher Kim Taylor.
"The play has drama," said junior Gracie Ellis, who plays the protagonist, Prospero. "It has comedy. It's light and it's intense at the same time."
A play inside a play, it centers around women in a prison who perform "The Tempest." So in addition to their Tempest character, the PHS actors chose an imprisoned person, who relates to their Tempest character, to and research and portray. The added layers of storytelling requires the cast to understand not only how their characters connect in The Tempest, but also in the prison, Ellis said.
"[Each acting student] has a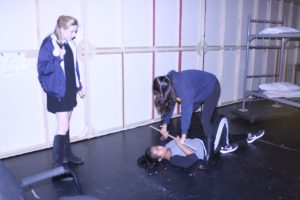 n [incarcerated] person that they're researching to be, and then they have to be that person playing 'The Tempest' person," Taylor said.
Taylor added another twist; all the traditionally male roles now serve as female roles, said senior Anna Campbell, who plays Miranda.
"In our version, since it's a majority of females, we are setting it in a women's prison, so all the women prisoners are playing all the traditional male roles," Campbell said.
The play centers around Prospero, a duke of Milan, and her exile on a remote island where she has trapped all her enemies. By the end of the play, Prospero must face her past and forgive the people who have wronged her, Ellis said.
"That's related to the prison aspect of it, being able to forgive yourself for the crimes you've committed and forgiving others in the process," Campbell said.
Taylor said that she chose to set the play in a prison after working with recently incarcerated people last year.
"I saw the way that theater transformed [the recently incarcerated people]," Taylor said. "I thought the way that they got to tell their stories and what it meant to them was beautiful."
Shortly after choosing the play for PHS, she received the opportunity to work in the Tracy Deuel Vocational Institution in Tracy. There, she directed "Henry IV," and is currently working on "The Tempest" in Tracy. "The Tempest's" themes of forgiveness and revenge lent themselves perfectly to this setting, said Taylor.
"We all feel imprisoned by our thoughts certainly, but not in the same way as prisoners," Taylor said.
Taylor said her work in the prison has not only been enriching for her, but has helped inform the directing of her students and assisting them in understanding their roles.
"It's been interesting watching the students day to day in rehearsals learning more about our justice system and how it continues to not really be a justice system in many cases," Taylor said.
Campbell and Ellis said that researching prisons has made them more empathetic towards prison life and has inspired a desire to spread what they have learned.
"I definitely want people to look deeper and start paying attention to who's in prison," Ellis said.
Ellis said learning more about incarceration has caused her to recognise a lot of her own privilege, which she hopes to use as a platform to advocate for incarcerated women.
"There are a lot of women who are set up to have the world against them, and I feel like something needs to be done about it, but it's not happening," Ellis said.
Both Campbell and Ellis said they hope to continue this movement for greater recognition of the struggles of incarceration within the theater department.
"We are definitely, as a theater department and as a cast, going to keep doing anything we can do to help," Ellis said.