Men's varsity lacrosse scores new coaches
For the past four seasons, the men's lacrosse team has had a new coach every season and finally found the fit for their glove this season with head coach Ryan Price and assistant coach Tom Gourhan.
"It's been tough having the coaching staff change every year," junior lacrosse player Ian Joseph said.
Fortunately, the team's strong leadership from the upperclassmen and self-motivation from the players have kept them from being negatively affected by the inconsistent coaching staff, Joseph said.
"Our team has handled our coaching changes very well," said junior lacrosse player Hunter Settlemier. "We have had success no matter who our coach is, and we plan on continuing to be successful with our new coaches."
Price and Gourhan hope to win together, grow together, and achieve everyone's personal goals. To them, success isn't always measured in the number of wins, but how the team grows as one. However, the team ultimately hopes to win NCS this season, Gourhan said.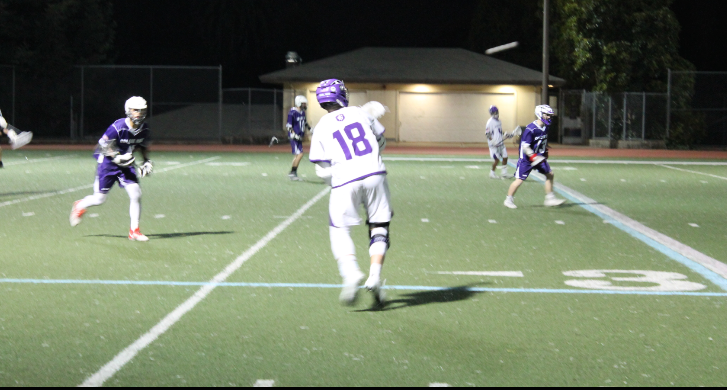 "Goals for this season are to develop the best lacrosse players we can, and hopefully that will translate into winning games," Price said. "My main goal is for these guys to come together and have fun."
To achieve this, the coaches follow a pedagogy centered around the processes, not the results. By focussing on how certain things are done, the results will typically follow, Price said.
The coaches' experience and knowledge in lacrosse prove to be a great fit for the team, junior lacrosse player Luke Anderson said.
"[Price and Gourhan's] level of knowledge for the game presents new aspects and skills that I have never been taught," Joseph said. "They've expanded my IQ as a player and have furthered my passion for the game"
Price grew up and played lacrosse in Denver, Colorado and later went on to play for Colorado State University. From 2006 to 2015, Price coached lacrosse in Colorado and then moved to California where he coached at Bishop O'Dowd for the 2016-2017 season.
Similarly, Gourhan played lacrosse throughout his life starting in second grade and continuing on at Bishop O'Dowd High School and later at Saint Mary's College. Today he continues to play in an adult league. He has coached lacrosse for two and half years at University High School, and most recently at a homeless shelter for abused youth in Oakland, Gourhan said.
"I always wanted to work with kids, and unfortunately while I like working at the shelter, it was really difficult because of my work hours," Gourhan said. "I needed to find another opportunity that was also satisfying, fulfilling, and would let me continue working with kids. Lacrosse lent itself to that."
Price and Gourhan treat the athletes with respect and maturity, Anderson said.
"[Price and Gourhan] are professional when they need to be, but also talk to us like we are friends," Anderson said. "As long as we are listening to them, they don't treat us like two-year-olds."
The team's next game will be against Menlo School tonight at 7 p.m. on Witter Field.