Walsh wins at teaching underclassmen English at a young age
"I love Ms. Walsh," English teacher Debbi Hill said.
English teacher and Speech and Debate club adviser Ellen Walsh started teaching at PHS at the beginning of last year, at age 22. Walsh said she had always toyed with the idea of teaching, but that she had not seriously considered the idea until she started college.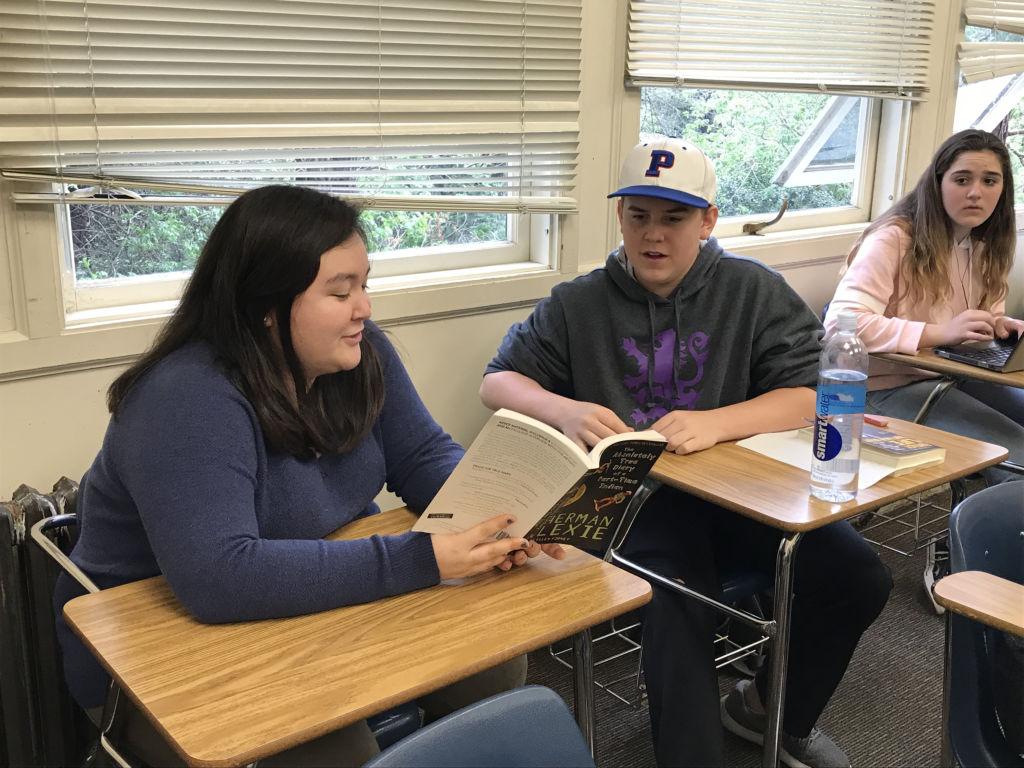 "There was the realization that I didn't want to go into writing, and publishing and journalism weren't really my thing, and I really liked to analyze," Walsh said. "Teaching is the only profession where you can talk about books all day and get paid for it."
Walsh is drawn to deconstructing the work of others, and has always had a talent for understanding English.
"I like to talk," Walsh said. "I really love discussion, and whenever I took English classes it always clicked, I always understood everything."
Walsh teaches English 1-2 and English 3-4, and said that she particularly likes how open her students are to changing their writing style.
"You can see people changing," Walsh said. "If I'm reading an essay and I see that they've done something we've talked about, it's like 'ooh, instant gratification.'"
Hill, who has always taught English 3-4, said that she grew close with Walsh after giving her advice on teaching the class.
"It's great to have a new, young, enthusiastic teacher to bounce ideas off of," Hill said. "She's so smart, I'm always impressed."
Walsh and Hill share a love of positive humor and will often joke with each other throughout the day, Hill said.
"We both like 'Unbreakable Kimmy Schmidt' a lot, and there's a really funny video of Kimmy Schmidt where she makes up a song called 'Bunny and Kitty'," Hill said. "One day [Walsh] started singing that song and it became our thing to sing it back and forth and laugh about it."
Hill was also impressed by Walsh's confidence, even as a new teacher.
"She doesn't hold back, which is refreshing," Hill said. "Sometimes when a new, young teacher starts they sort of defer to the folks who have been here a long time, but she says what she thinks."
Walsh's goal is to bring more diversity to the literature that students read.
"I'm really vocal about wanting diversity in our curriculum and I think the department echoes that, which is good, because I don't think I would work here if they didn't," Walsh said.
Hill said she admires that Walsh started her teaching career in a place like Piedmont.
"I am so impressed that she's survived," Hill said. "I truly don't think I could have started my teaching career teaching English at PHS. This is a tough school to start your teaching career, because everyone has high expectations: students, parents, other teachers."
However, Walsh said that she appreciates how motivated and collaborative PHS students are.
"Even if it's a bad day, a bad day still isn't that bad, because kids will still thank you and say hi to you, and they still treat you well," Walsh said. "Plus, I think it's way better than sitting at a desk all day."
In addition to her teaching duties, Walsh is the adviser for the Speech and Debate club. Co-president of Speech and Debate club Anna Fehr works closely with Walsh, and said she is often in Walsh's room signing forms or running the club.
"We have a similar view of what we want the Speech and Debate to be like," Fehr said. "We're both very focused on making it welcoming to new team members."
Like with Hill, Walsh and Fehr share a sense of humor.
"We were driving to a debate tournament and we were driving through this cornfield, and then Ms. Walsh was like, 'I have a fear of rural places, I think that old white men with guns are going to come attack me'," said Fehr, laughing in between words.
Walsh said that her young age can sometimes affect students' behavior towards her.
"I look like them," Walsh said. "They think of me as their friend so it's hard sometimes to establish a boundary."
Walsh hopes to continue teaching at PHS for a while, but wants to go back to school one day.
"I like being a student too," Walsh said.
However, Hill said that Walsh is doing very well teaching as it is.
"[Walsh] was born to be an English teacher, it comes to her very naturally," Hill said. "She's doing just fine, and I expect and hope that she'll be at [PHS] for a long time."